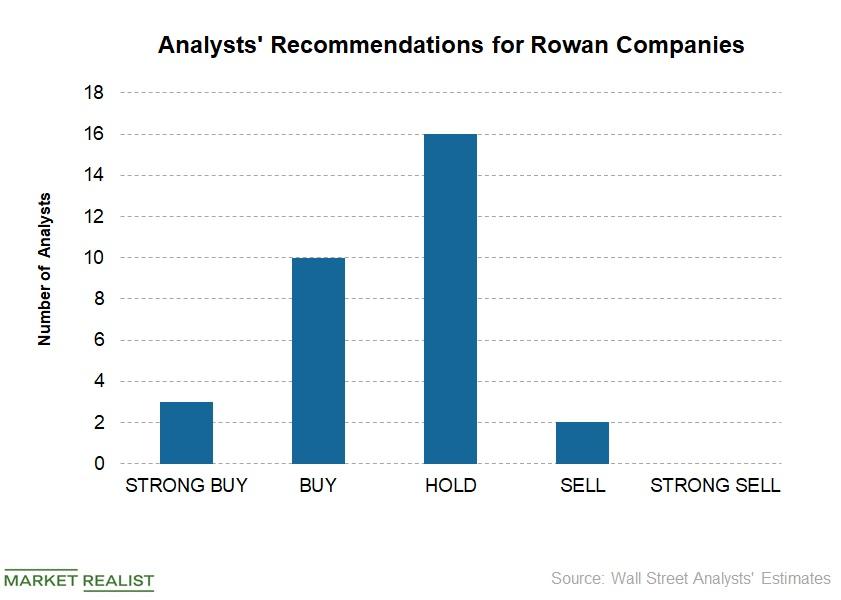 Wells Fargo Upgrades Rowan Companies to 'Outperform'
RDC's analyst recommendations
Of the 31 analysts covering Rowan (RDC), 39% recommend "buy" or some equivalent, 55% recommend "hold," and 6% recommend "sell." Among the top offshore drilling stocks (IYE), Rowan has the highest percentage of "hold" recommendations.
Analysts' 12-month target price of $15.50 implies a 3.6% downside based on the stock's May 24 market price of $16.07. Since the beginning of the year, two analysts have downgraded Rowan Companies, and two analysts have upgraded the stock:
Article continues below advertisement
In January, Piper Jaffray downgraded RDC to "neutral" from "overweight," and Barclays downgraded RDC to "underweight" from "equal weight."
In May, Bank of America Merrill Lynch upgraded the stock to "neutral" from "underperform," and Wells Fargo upgraded Rowan Companies to "outperform" from "market perform."
Target price revisions in May
Wells Fargo raised RDC's target price to $20 from $12.
Bank of America Merrill raised RDC's target price to $17 from $9.
Credit Suisse raised RDC's target price to $15 from $14.
RBC raised RDC's target price to $16 from $14.
Latest news
On May 22, Rowan Companies announced that it had amended the agreement governing its existing revolving credit facility and entered a new agreement providing additional unsecured revolving credit. The new five-year facility will give Rowan a borrowing capacity of $955 million. To learn more about the company, read Market Realist's Rowan Companies Reports Loss in 1Q18, Stock Falls.