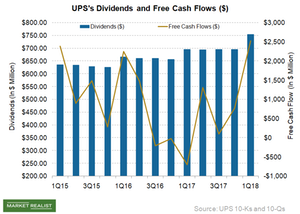 UPS: Do Free Cash Flows Indicate Higher Dividends Ahead?
By Samuel Prince

Updated
UPS's dividend payout ratio
In the first quarter, United Parcel Service (UPS) reported adjusted earnings per share of $1.55. With a payment of a quarterly cash dividend of $0.91 per share, UPS's dividend payout ratio was 59.0%. This has risen slightly from a dividend payout ratio of 54.0% in the first quarter. 
These levels of dividend payouts don't appear to be high for UPS. However, a sharply higher dividend payout ratio could impact dividend sustainability.
Article continues below advertisement
UPS's free cash flows
Dividends are paid out of a company's FCFs (free cash flows). A company's FCFs are in excess of operating cash flows over its capital expenditure in that year. FCFs are normally used to buy back stock, dividend payments, and reinvestment in the business.
In the first quarter, United Parcel Service's FCFs rose $3.2 billion from -$700.0 million to $2.5 billion year-over-year. This trend was aided by the tax savings resulting from the implementation of the Tax Cuts and Jobs Act. Considering UPS's quarterly dividend payment, current levels of free cash flows are sufficient to support the dividends.
UPS's free cash flows had been dwindling and fell 58.0% year-over-year to $1.4 billion in fiscal 2017 from $3.5 billion in fiscal 2016. In fiscal 2015, the delivery giant's FCFs reached $5.0 billion, which represents a 36.4% decline YoY in fiscal 2016.
UPS's free cash flows were insufficient to support the dividend levels in five of 12 consecutive quarters through the fourth quarter of 2017. The steady rise in quarterly capex coupled with weak operating cash flows on a sequential basis resulted in lower levels of FCFs for the company. For a company that enjoys a virtual duopoly in dictating shipping rates, this could be cause for concern.
However, FedEx (FDX) reported comparatively lower FCFs than United Parcel Service over the last several quarters. This trend is due to lower levels of the former's operating cash flows in recent years despite reasonable levels of capital expenditure.
Peer group's dividend payout ratio
FedEx has a dividend payout ratio of 7.0% for the quarter that ended in February. The same metric for Old Dominion Freight Line (ODFL) is 10.0%. J.B. Hunt Transport Services (JBHT) has a dividend payout ratio of 22.0%. Schneider National, a major US transportation (IYT) company, has a dividend payout ratio of 15.0%.
Next, we'll compare United Parcel Service's forward dividend yield with the peer group.