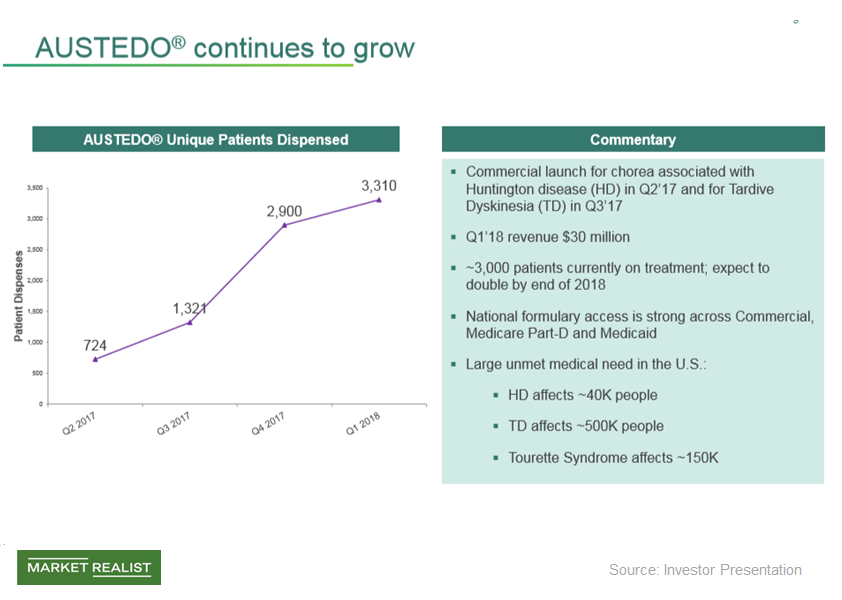 Teva's Austedo Sales Continue to Gain Momentum in 2018
Teva's Austedo performance in 1Q18
In 1Q18, Teva Pharmaceutical (TEVA) reported Austedo sales of $30 million. In April 2017, Austedo was approved by the FDA (U.S. Food and Drug Administration) to treat chorea associated with Huntington's disease and Huntington's disease movement disorder and was launched in the US market. Further, in August 2017, the drug received FDA approval for the treatment of tardive dyskinesia. Currently, nearly 3,000 patients are on Austedo treatment. This figure is expected to double by the end of fiscal 2018.
Article continues below advertisement
Austedo is likely to be key growth driver due to huge unmet potential
As per Teva, Austedo presents a long-term potential growth opportunity for the company, as there is a huge unmet need for the drug in the market. Austedo is the first new treatment for chorea associated with Huntington's disease in over a decade. More than 0.5 million people could benefit from Austedo therapy. Huntington's disease is estimated to impact nearly 40,000 people in the United States, while nearly 500,000 patients suffer from tardive dyskinesia. The company is working to address market opportunity and potential growth. Teva has been accelerating its commercial strategy for Austedo. It's increasing its sales support for Austedo in the psychiatry market as well.
Teva stated that it's witnessing continuous growth in patients taking Austedo and revenues from the drug each quarter. The company expects to generate Austedo sales of $200 million in full fiscal 2018. Teva is also working on developing Austedo for the treatment of Tourette Syndrome, which is estimated to affect nearly 150,000 people in the United States.
Be sure to check out all the data we've added to our quote pages. Now you can get a valuation snapshot, earnings and revenue estimates, and historical data, as well as dividend information. Take a look!