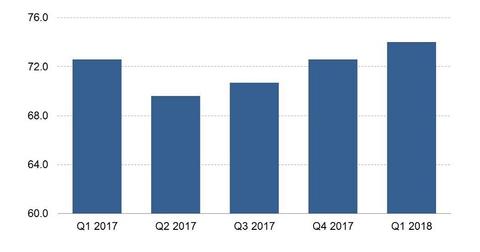 T-Mobile–Sprint Merger: Why Aren't Verizon and AT&T Crying?
By Ruchi Gupta

Updated
Verizon and AT&T unusually quiet
While some commentators and lawmakers have raised a red flag over the proposed merger between T-Mobile (TMUS) and Sprint (S), the proposal has received a tepid reaction from companies that should be the most critical of the idea.
Verizon (VZ) and AT&T (T), which would face a much stronger challenge if the merger goes through, do not seem to be bothered by it. Initially, Verizon and AT&T executives avoided debating the merger. But more recently, they've been talking about it although not raising any alarms.
Article continues below advertisement
Verizon doesn't care what happens
According to Verizon, it simply doesn't care whether T-Mobile and Sprint successfully close their $26 billion merger deal or not. As for AT&T, it has no plan to contest the proposal.
Critics of the merger proposal fear that it would result in reduced competition and higher prices for wireless consumers. The same concerns drove the government to file a lawsuit to block AT&T from buying Time Warner (TWX). The court is expected to decide on the issue by June 16.
T-Mobile added 1.4 million customers in Q1 2018
Working independently, T-Mobile and Sprint have been disruptive forces in the US wireless market. They've mostly waged price wars against Verizon and AT&T, which had to bring back unlimited data plans to avoid more subscriber losses. Perhaps Verizon and AT&T are hoping that a merger of these smaller rivals will dilute the competition and lead to more rational pricing decisions.
T-Mobile's disruptive strategies included adding 1.4 million new customers in the first quarter, exceeding the expected addition of 1.3 million customers. It ended the quarter with 74 million customers.