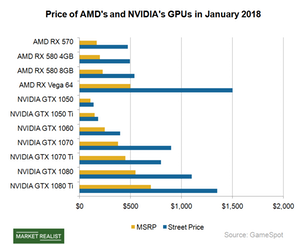 NVIDIA, AMD, and Rising Graphics Processing Unit Prices
Graphics processing unit prices and the crypto boom
Previously, we saw that GPUs' (graphics processing units) parallel processing ability has made them increasingly popular in different applications such as cryptocurrency mining and AI (artificial intelligence). Last year saw the cryptocurrency boom, in which many miners purchased Advanced Micro Devices' (AMD) and NVIDIA's (NVDA) GPUs to mine currency.
The crypto boom, which began in mid-2017, saw crypto miners buy a boatload of GPUs directly from manufacturers and channel distributors, creating a market shortage of GPUs and leaving many retailers out of stock.
Article continues below advertisement
June 2017 GPU prices
Many retailers cashed in on the supply shortage and raised GPU prices. In June 2017, GPU prices rose to up to three times their MSRP (manufacturer's suggested retail price). Amazon's (AMZN) price for AMD's RX 580 rose from $230 to as much as $700, and NVIDIA's GTX 1070 price rose from $380 to $700. Only high-end GPUs were unaffected by the crypto trend.
January 2018 GPU prices
The crypto market intensified and GPU prices reached their peak in January, and even high-end GPU prices rose. NVIDIA's GTX 1080 Ti rose from its MSRP of $700 to more than $1,200, while AMD's flagship Vega 56 and 64 rose from their MSRPs of $400–$500 to more than $1,000—and these were the prices at retailers that had GPUs in stock. Most retailers were out of stock.
Article continues below advertisement
AMD and NVIDIA give priority to gamers
Considering the undersupply situation, both AMD and NVIDIA stated that gamers would remain their priority and that they would take measures to put GPUs in the hands of gamers. The two companies announced that they would increase the GPU supply to fill channel inventories.
GPU prices cool off in March and April
At the end of March, GPU prices cooled off slightly. Between March 1 and 31, NVIDIA's GTX 1070 fell from $790 to $630 and GTX 1080 Ti fell from $1,400 to $1,000. Although the GPUs were still above their MSRPs, gamers were given some hope that they could soon buy GPUs at affordable rates. GPU prices cooled further in April as demand from crypto miners slowed. Next, we'll see if this GPU price decline is temporary or here to stay.
Check out all the data we have added to our quote pages. Now you can get a valuation snapshot, earnings and revenue estimates, and historical data as well as dividend info. Take a look!