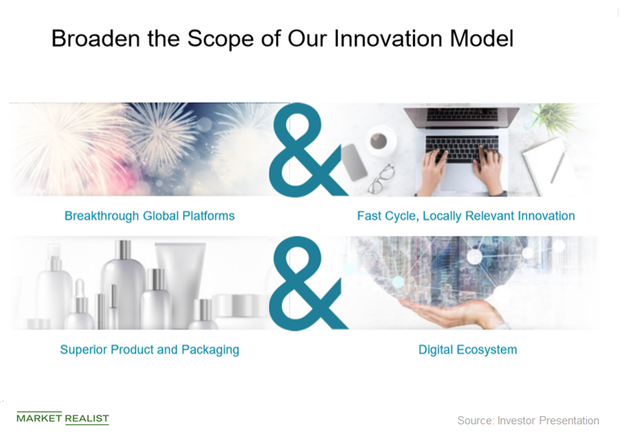 Johnson & Johnson's Strategy to Broaden Scope of Innovation Model
Innovation: Key growth driver for Johnson & Johnson
Johnson & Johnson (JNJ) is focused on growth driven by innovation, which has led the company to invent new categories or enhance the standard of care in its established businesses. In the fast-changing consumer market landscape, Johnson & Johnson has been executing a defined strategy of broadening the scope of its innovation model, focused on breakthrough global platforms, fast and locally relevant innovation, superior product and packaging, and a digital ecosystem.
Article continues below advertisement
Key examples of innovation-based model changes
This year, Johnson & Johnson plans to launch more than 150 products worldwide. Some of those innovative products include sensitivity prevention mouthwash and a Retinol and Neo glucosamine combination anti-aging formula that it hopes will become a new standard in anti-aging skin care. Category growth through global platforms along with locally relevant innovation is Johnson & Johnson's key focus.
Johnson & Johnson is working on brand redesigning for a number of its product lines. One of them is Listerine, one of its billion-dollar brands. It will have new packaging graphics that will highlight its benefits and better pricing, which will make it easier for consumers to shop. The launch will be supported by in-store as well as e-commerce platforms.
Another example is the scientifically proved superior product and packaging of Neutrogena, which the company is innovating through adding services through its digital ecosystem. It recently launched Neutrogena Skin360, which is the first smartphone-based, dermatologist-grade, at-home skin analysis tool.
Johnson & Johnson is focused on relaunching its baby care line, which has reported a significant loss of sales and market share due to recent litigation surrounding the safety of its talcum baby powder. For more information, be sure to read JNJ's Baby Care Line Set for Relaunch to Stimulate Falling Sales.
Check out all the data we've added to our quote pages. Now you can get a valuation snapshot, earnings and revenue estimates, and historical data, as well as dividend information. Take a look!