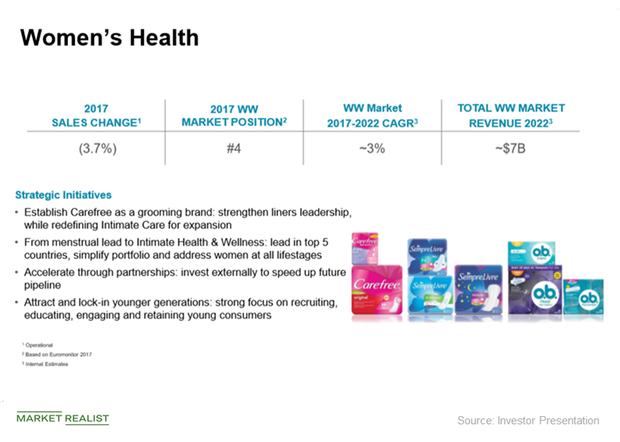 How Johnson & Johnson Plans to Restore Women's Health Sales
Overview
Johnson & Johnson (JNJ) reported sales of $3.4 billion in its consumer business in its fiscal first quarter. About 7% of that came from its women's health business, which declined ~4.6% on an operational basis in the quarter. In fiscal 2017, the business registered an operational sales decline of 3.7%. Declining segment sales were driven by competitive pressures and a category decline in Europe and India.
According to JNJ, it's the fourth-largest company in the women's health products market. Its women's health business is expected to grow at a CAGR (compound annual growth rate) of ~3% from 2o17 to 2022. By 2022, the women's health business is expected to grow to ~$7 billion globally.
Article continues below advertisement
JNJ's strategic initiatives to drive growth for its women's health business
Johnson & Johnson has been working on a number of strategic initiatives to improve sales for its women's health business. The company has started working on an initiative to establish its Carefree brand of sanitary pads as a grooming brand, which is expected to strengthen the company's leadership in liners. It's focused on addressing the needs of women of all ages at different life stages. It's also looking to enter into strategic partnerships and collaborations and boost its product pipeline through external investments. Johnson & Johnson has accelerated its initiatives to attract and retain younger consumers.
Check out all the data we've added to our quote pages. Now you can get a valuation snapshot, earnings and revenue estimates, and historical data, as well as dividend information. Take a look!