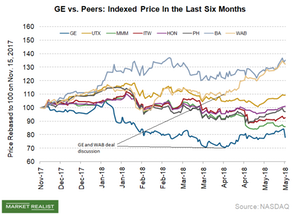 How GE and Wabtec Stock Reacted after Announcement of the Deal
By Samuel Prince

Updated
GE and Wabtec stock price reactions
General Electric (GE) and Wabtec (WAB) stocks have steadily moved upward since rumors of the deal to combine the Transportation segment with Wabtec went public in April. However, the scenario was different when the rumor became official on May 21. That day, GE stock opened at $15.36 and rose to $15.50 before closing at $15.26. After closing slightly higher the next day, the stock took a steep fall on May 23.
Article continues below advertisement
Did GE fall due to deal with WAB?
GE stock fell 7.3% on Wednesday, May 23, with a closing price of $14.18. The sharp downturn could be associated with CEO John Flannery's speech at the Electrical Products Group conference in Florida on May 23. Flannery was straightforward when asked about 2019 dividends: "It's ultimately a function of the free cash flow of the company and that's ultimately a function of operating performance and things that we do with the portfolio." That might have upset investor sentiment and resulted in a sell-off.
On May 21, Wabtec (WAB) stock opened at $95.28. As news of the merger deal broke, it reached $100.28 before closing at $98.55, up 3.5% based on the closing price of $95.19 on May 18. However, the stock fell in the next two trading sessions. On May 23, it closed at $96.66, down 0.83% from the previous day's closing price of $97.47.
Article continues below advertisement
GE compared to its peers
Since the beginning of 2018, GE stock has fallen 21%. In the past year, it has fallen 48%. Let's compare GE's one-year stock price returns with its peers in the industrial space.
The SPDR S&P 500 ETF (SPY), which is an indicator of the broad market, returned 13% in the last year.
Summing up
General Electric's proposed deal with Wabtec seems to have already been priced into the stock. In the above graph, you can see the stock price movements for both companies after mid-April. It clearly shows that the markets have given up a thumbs-up to the deal.