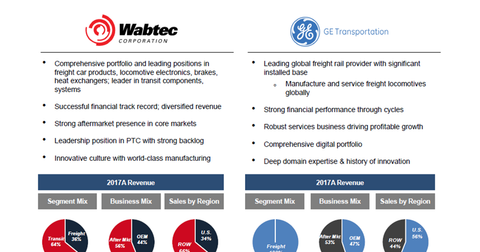 GE Transportation and Wabtec: Their Businesses and Financials
By Samuel Prince

May. 25 2018, Updated 2:25 p.m. ET
GE Transportation
The markets expect General Electric's (GE) deal with Wabtec (WAB) to result in a combined entity valued at more than $20 billion. In 2017, GE's Transportation segment's revenue was $4.1 billion. The segment manufactures passenger and freight trains, mining equipment, and marine diesel engines.
The Transportation segment operates one division: Freight. The segment's business mix consists of aftermarkets (53%) and original equipment manufacturers (47%). It earned 56% of its fiscal 2017 revenues from US operations, while the remaining 44% came from outside the United States.
Article continues below advertisement
Transportation's revenue fell 11% in 2017 to $4.1 billion, from $4.7 billion in the previous year. A brief look at GE's Transportation revenues shows that they have fallen YoY (year-over-year) for the last five years through 2017. The same is true for the segment's operating profit, which declined 22.5% YoY to $824 million in 2017, from $1 billion in 2016. In 2013, GE Transportation reported revenues of $5.8 billion and an operating profit of $1.1 billion. That clearly indicates that the segment's financials have been hurting for several years.
About Wabtec
Pennsylvania-headquartered Wabtec has a comprehensive product portfolio in the railroad (IYJ) industry. It's a leader in locomotive electronics, freight car products (TRN), brakes, heat exchangers, transit components, and systems.
Wabtec operates in two segments: Freight and Transit. In 2017, 56% of its revenues were related to aftermarkets, and the remaining 44% were related to original equipment manufacturers. Wabtec has a strong global presence, with 66% of its 2017 revenues coming from outside the United States.
In 2017, Wabtec's revenues were $3.9 billion, up 32% YoY compared to 2016. The rise in revenue was driven by combining acquisition revenues of $1.2 billion, which subsidized the organic revenue fall. Revenues for its Freight segment fell 10%, and the Transit segment's revenues rose 79% due to acquisitions.
Wabtec's operating income in 2017 was $421.7 million, down 8% from $458.3 million in 2016. Its net income attributable to shareholders declined in the double digits (14%), from $304.8 million in 2016 to $262.2 million in 2017.
In the next part of this series, we'll look at the logic behind the GE-Wabtec deal.