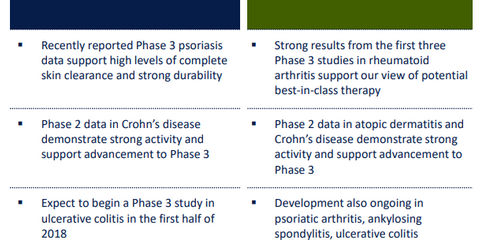 Exploring the Key Aspects of AbbVie's Research Pipeline
By Kenneth Smith

Updated
Research pipeline
AbbVie (ABBV) expects a number of regulatory submissions and key data readouts from its clinical trials over the next 12 months. It also expects multiple Phase 2 programs to transition into Phase 3 programs.
The company's research pipeline currently includes more than 60 compounds in clinical development, either individually or under collaboration and licensing agreements. It's focused on specialties such as immunology, oncology, neurology, and targeted investments in cystic fibrosis and women's health. Of these programs, 30 are in mid- or late stages of development.
Article continues below advertisement
Immunology
The FDA granted a breakthrough therapy designation to AbbVie's upadactinib, which is aimed at treating patients with moderate to severe atopic dermatitis, in January. In April, the company announced its top line results from the drug's Phase 3 SELECT-COMPARE trial, which met all primary and ranked secondary end points in patients with moderate to severe rheumatoid arthritis.
In February, AbbVie reported its top line results from two Phase 3 trials of risankizumab, which evaluated the 12-week dosing of the drug compared to ustekinumab. The drug met additional secondary end points for treating patients with moderate to severe chronic plaque psoriasis.
In January, the company initiated two Phase 3 clinical trials evaluating the efficacy and safety of risankizumab compared to a placebo during induction therapy in patients with moderate to severely active Crohn's disease.
Further, AbbVie submitted a biologics license application (or BLA) to the FDA and a marketing authorization application (or MAA) to the European Medicines Agency (or EMA) for risankizumab for the treatment of plaque psoriasis.
In April, the company also submitted a supplemental new drug application (or sNDA) for Imbruvica in combination with Rituxan to the FDA for treating patients with Waldenstrom macroglobulinemia.
In the next part of the series, we'll continue to look at AbbVie's research programs in oncology and neurology.