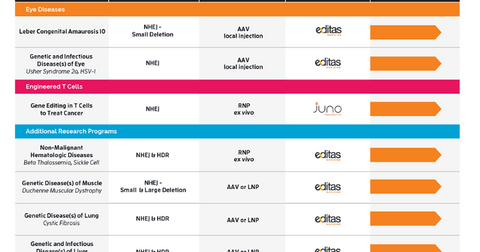 Exploring Editas Medicine's Research Pipeline
By Kenneth Smith

Updated
Research pipeline
Editas Medicine's (EDIT) core capability in genome editing makes use of clustered, regularly interspaced, short palindromic repeats (or CRISPR) technology to create molecules that can specifically edit DNA.
The company's strategy is to target genetically defined diseases with a focus on debilitating illnesses for which there are no approved treatments and whose genetic bases are well understood.
Ocular diseases and engineered cell medicines are two areas in which Editas's research programs have matured. The company's most advanced program targets a specific genetic form of retinal degeneration known as Leber congenital amaurosis type 10.
Article continues below advertisement
Editas Medicine aims to file an investigational new drug application for this program by mid-2018. As part of its long-term strategy, Editas Medicine aims to have at least three experimental medicines in early-stage clinical trials and at least two additional experimental medicines in or ready for late-stage clinical trials by the end of 2022.
Collaboration with Juno Therapeutics
In May 2015, Editas Medicine entered into a collaboration with Celgene's subsidiary, Juno Therapeutics, to develop novel engineered T cell therapies for cancer. Under this collaboration, Editas has received an up-front payment of $25 million and a milestone payment of $2.5 million so far. Additionally, Editas can receive up to $2 million in research support over the collaboration period of five years. Until the end of March 2018, Editas had recognized $12.3 million in research support from Juno Therapeutics.
In March 2017, Editas entered into a strategic alliance and option agreement with Allergan Pharmaceuticals International to discover, develop, and commercialize new gene-editing medicines for a range of ocular disorders. Under this agreement, Editas received an up-front payment of $90 million from Allergan.
In the next article, we'll take a look at Editas Medicine's financial performance.