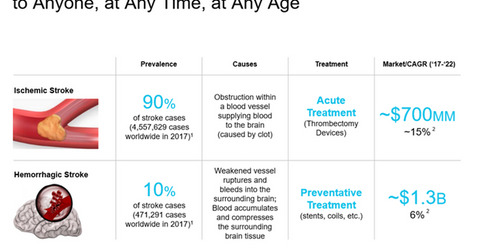 Discussing JNJ's Strategy for Advancing Stroke Treatments
By Sarah Collins

Updated
Opportunity in stroke treatment area
Strokes are one of the most prevalent life-threatening conditions, claiming one life every six seconds globally.
Ischemic strokes make up 90% of stroke cases around the world, and the remaining 10% are hemorrhagic strokes. Ischemic strokes are caused by the formation of clots in the brain, whereas hemorrhagic strokes are caused by the rupturing of blood vessels.
Ischemic strokes are treated with a mechanical thrombectomy or aspiration device, whereas for hemorrhagic strokes, the main preventative therapies include the administration of coils and stents. The ischemic stroke market offers immense growth opportunity for Johnson & Johnson (JNJ) and its peers around the world.
JNJ is focused on establishing an innovation strategy to address the unmet needs in this market and to leverage its strong product portfolio and market position to tap potential growth.
Article continues below advertisement
Recent innovations in the stroke portfolio
In the ischemic stroke market, JNJ has introduced an ambrotype stent label device that is gaining significant momentum in Europe and has recently received FDA approval. The company plans to launch the device in June. It's also investing in and designing solutions for the removal of clots, which cause ischemic strokes. In the hemorrhagic stroke area, JNJ has launched G3, which is the only device available in the market for the treatment of bifurcated aneurysm.
Moreover, late in 2018, JNJ is set to launch its Verb device in Europe, thereby entering the flow-diverter segment. The company is making investments in EBITDA generation and sales force expansion to drive clinical differentiation and increased adoption.
Next, we'll take a look at JNJ's orthopedics business potential and growth strategy.