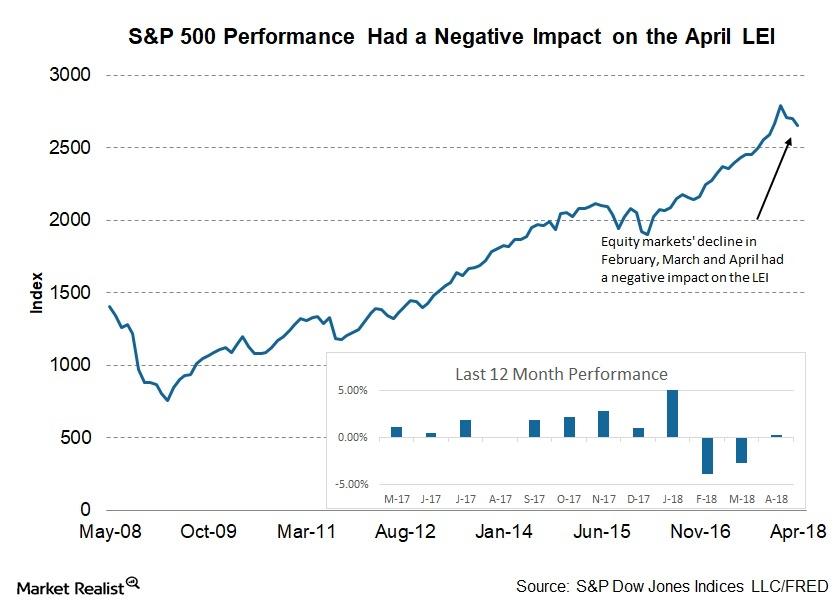 Consecutive S&P 500 Declines Have Hurt Leading Economic Index
By Ricky Cove

May. 21 2018, Updated 3:10 p.m. ET
S&P 500 Index closes lower in April
The S&P 500 Index (SPY) continued its negative run with another lower close in April. After declining 3.9% in February and 2.7% in March, the index managed to close April with a minor loss. The anxiety about trade tensions led to the decline in the previous months, but conditions have normalized since as China and the US are at the negotiation table. Add the stellar first-quarter earnings to the equation and things don't look that bad anymore. The index has appreciated 2.7% so far and is back in positive territory for the year.
Article continues below advertisement
S&P 500 performance and its impact on the leading index
The Conference Board Leading Economic Index (or LEI) uses the performance of the S&P 500 Index (VOO) as one of the constituents of the LEI. The inclusion of the S&P 500 performance in the Conference Board Leading Economic Index (or LEI) is supported by econometric evidence, as some economists would argue that the stock markets are not a true reflection of the state of the economy. In the case of the Conference Board LEI, the financial model used to construct the leading index only gives a weight of 4.0% to the performance of the S&P 500 (UPRO) Index. In April, the performance of the S&P 500 Index had a net negative impact of 7% on the LEI reading.
ETFs tracking the S&P 500 Index
The SPDR S&P 500, the iShares Core S&P 500 (IVV), and the Vanguard S&P 500 ETF are some of the prominent ETFs tracking the performance of the index. Both the funds have appreciated in the first-quarter earnings season as more than 80% of the constituent companies reported better-than-expected earnings in the last quarter. With trade tension on the back burner and geopolitical tensions (Iran Nuclear Deal) having limited impact on volatility (VXX), we could see continued appreciation in the US equity indexes in the near term. The risk to this outlook could arise from an overly aggressive Federal Reserve or increased geopolitical tensions. In the next part of this series, we'll analyze the decline in credit conditions in the US.