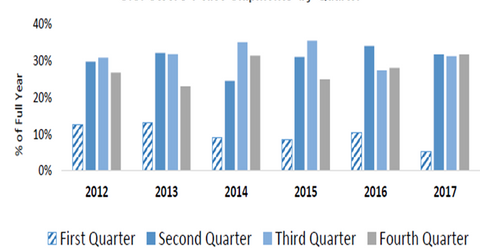 Analyzing U.S. Steel Corporation's Disclosure Policy
By Mohit Oberoi, CFA

May. 8 2018, Updated 6:34 a.m. ET
U.S. Steel Corporation's 2018 guidance
During the 1Q18 earnings call, U.S. Steel Corporation (X) said that it expects to post an adjusted EBITDA (earnings before interest, tax, depreciation, and amortization) of $1.7 billion–$1.8 billion in 2018. On the lower end, the guidance is $200 million higher compared to the guidance U.S. Steel Corporation provided during the 4Q17 earnings call.
Article continues below advertisement
Disclosure policy
In the past year, U.S. Steel Corporation tweaked the disclosures that it provides to markets. For instance, when U.S. Steel Corporation posted a surprise loss in 1Q17, the company attributed the loss to seasonality in its iron ore business. Since then, U.S. Steel Corporation started providing a breakup of its iron ore shipments, which helped markets get a better sense of the business.
Earlier this year, U.S. Steel Corporation provided its sensitivity to spot steel prices, the quarterly EBITDA guidance, and the annual guidance. Analysts appreciated the additional disclosures. AK Steel (AKS), ArcelorMittal (MT), and Nucor (NUE) don't provide such granularity on earnings sensitivities.
In another break from the usual convention, last month, U.S. Steel Corporation upwardly revised its 2018 guidance between earnings calls. Like Cleveland-Cliffs (CLF), U.S. Steel Corporation usually gives the annual guidance during the quarterly earnings calls.
A step backward?
After steadily increasing the disclosures that U.S. Steel Corporation provides to markets, in its 1Q18 earnings call, the company didn't provide the steel prices that it assumed in its 2018 guidance. While there could be valid reasons including uncertainty about the Section 232 impact, the unavailability of steel price assumptions left markets asking for more from U.S. Steel Corporation's earnings guidance.
Next, we'll see what U.S. Steel Corporation's management said about its long-term outlook.