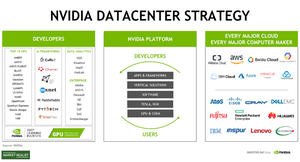 A Look at NVIDIA's Strategy to Expand Its Data Center Business
NVIDIA's data center strategy
The data center is one of the biggest markets for NVIDIA (NVDA), with a total addressable market of $50.0 billion. The company looks to tap this opportunity by making AI (artificial intelligence) available to everyone. To improve the availability of AI, NVIDIA needs to make AI easy to adopt. So, the company is developing ready packages for some of the most popular AI applications such as deep learning training and inferencing.
The success of NVIDIA's data center strategy revolves around the increasing adoption of its platform by maximum users and developers. NVIDIA attracts more developers to its platform by offering strong GPU (graphics processing unit) performance and extensive CUDA software.
Developers develop industry-specific, workload-specific, or company-specific applications that are then used by users and engineers on the public cloud or on-premise servers or data centers. As a result, the adoption of AI becomes easier.
Article continues below advertisement
Developers
The chart above shows that NVIDIA has expanded its developer base. There are now four types of developers writing applications on NVIDIA's platform. First is the traditional HPC (high-performance computing) developers. NVIDIA has top 15 HPC applications, including Abaqus Simulia, ANSYS Fluent, and ANSYS Mechanical.
NVIDIA also supports open-source AI frameworks like Facebook's Caffe and Google's TensorFlow. These open-source AI frameworks allow users to download AI algorithms for their machine learning and AI projects. These frameworks are used by numerous small and large companies for their AI projects.
Two new categories of developers are emerging. First are data analytics companies like MATLAB and mapD, which deal with large amounts of data. Second are large enterprise software companies like SAS, IBM (IBM), and GE (GE), which write applications for their wide consumer base.
More developers mean more applications, users, and deployment by public cloud and server OEMs (original equipment manufacturers). To attract more developers, NVIDIA is strengthening its foundation by enhancing its data center platform. Next, we'll look at NVIDIA's data center platform.
Check out all the data we have added to our quote pages. Now you can get a valuation snapshot, earnings and revenue estimates, and historical data as well as dividend info. Take a look!