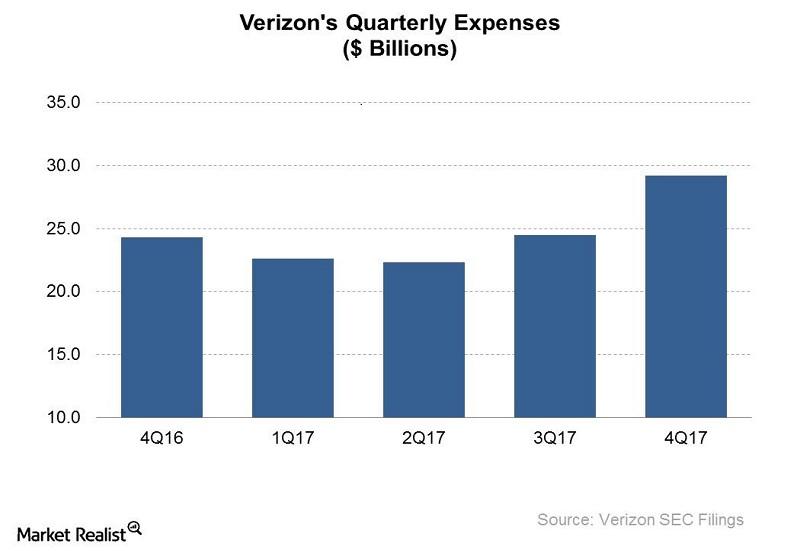 Verizon Closing Call Centers to Control Costs
Realigning real estate portfolio
Verizon (VZ) is closing call centers and vacating buildings in several states as part of its reorganization to consolidate customer service operations and control costs. In October 2016, the company unveiled a plan to close call centers in five states, including its home state of New York.
The company also planned to close call centers in Maine, Nebraska, Connecticut, and California. About 3,200 jobs were expected to be affected by Verizon's decision to shut down call centers in five states, Reuters reported.
"We are realigning our real estate portfolio and relocating these centers into other centers where we have extra capacity," said Kim Ancin, a Verizon spokeswoman.
Verizon's call center closures have continued. A recent report in the Birmingham Business Journal stated that the company was shutting down seven call centers in several states including Alabama, Arkansas, Tennessee, and South Carolina.
Article continues below advertisement
Verizon shifting employees to a home-based work model
Although Verizon is closing call centers and vacating buildings, the company has developed a model that would retain much of its workforce affected by the center closures. The model involves allowing the affected employees to work from home.
Shrinking the real estate needed to house call center workers could allow Verizon to trim some expenses. Cutting costs would allow Verizon to improve its profitability. The company would be able to realize more savings to reinvest in growth such as network improvement or to distribute dividends to shareholders.
Verizon's expenses rose nearly 20%
Verizon, T-Mobile (TMUS), AT&T (T), and Sprint (S) are working to make their networks 5G-ready. A significant amount of money is going into the network upgrade projects, which is driving up costs.
Verizon's expenses increased 19.9% YoY (year-over-year) to $29.2 billion in 4Q17. Expenses increased 32.0% YoY at Facebook (FB), one of the companies Verizon plans to challenge in the digital advertising industry through its Oath division.