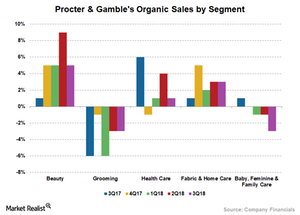 How Procter & Gamble's Segments Performed in 3Q18
Pricing remained a deterrent
Lower pricing adversely impacted Procter & Gamble's (PG) sales across product segments amid increased competitive activity. However, favorable currency rates and improved volumes drove top-line growth.
Analysts expect price competition and the increased promotional environment to mar the financials of the company's peers including Kimberly-Clark (KMB) and Colgate-Palmolive (CL) too.
Article continues below advertisement
Article continues below advertisement
Sales by segment
Procter & Gamble's organic sales in the beauty segment grew 5% on a YoY (year-over-year) basis, reflecting an improved mix. Organic sales for skin and personal care products saw a double-digit increase led by growth in the sales of super-premium SK-II brand and Olay coupled with innovation-led premium products in personal care. However, increased competition led to lower pricing. Net sales grew 10%, reflecting favorable currency rates.
The company's grooming segment remained challenged as improved volumes were more than offset by lower Gillette pricing. Organic sales fell 3.0%, reflecting lower pricing in shave care and an adverse geographic mix.
Organic sales in the company's Baby, Feminine, and Family Care segment decreased 3%. The Babycare segment marked a mid-single-digit decline in organic sales as retailers reducing inventory and competitive pricing remained a drag. Organic sales for Feminine Care registered low-single-digit growth driven by innovation-led products. However, the Family Care segment's organic sales fell in the low single digits, reflecting trade inventory reductions and competitors lowering pricing.
The Health Care segment's organic sales increased 1% as improved volumes in the personal healthcare category were partially offset by lower sales in oral care. Lower pricing and trade inventory reductions remained a drag.
Organic sales in the Fabric and Home Care segment grew 3%, reflecting low-single-digit growth in the Fabric Care segment led by innovation. Meanwhile, organic sales improved in the mid-single digits in the Home Care category, reflecting improved mix and innovation-led products.