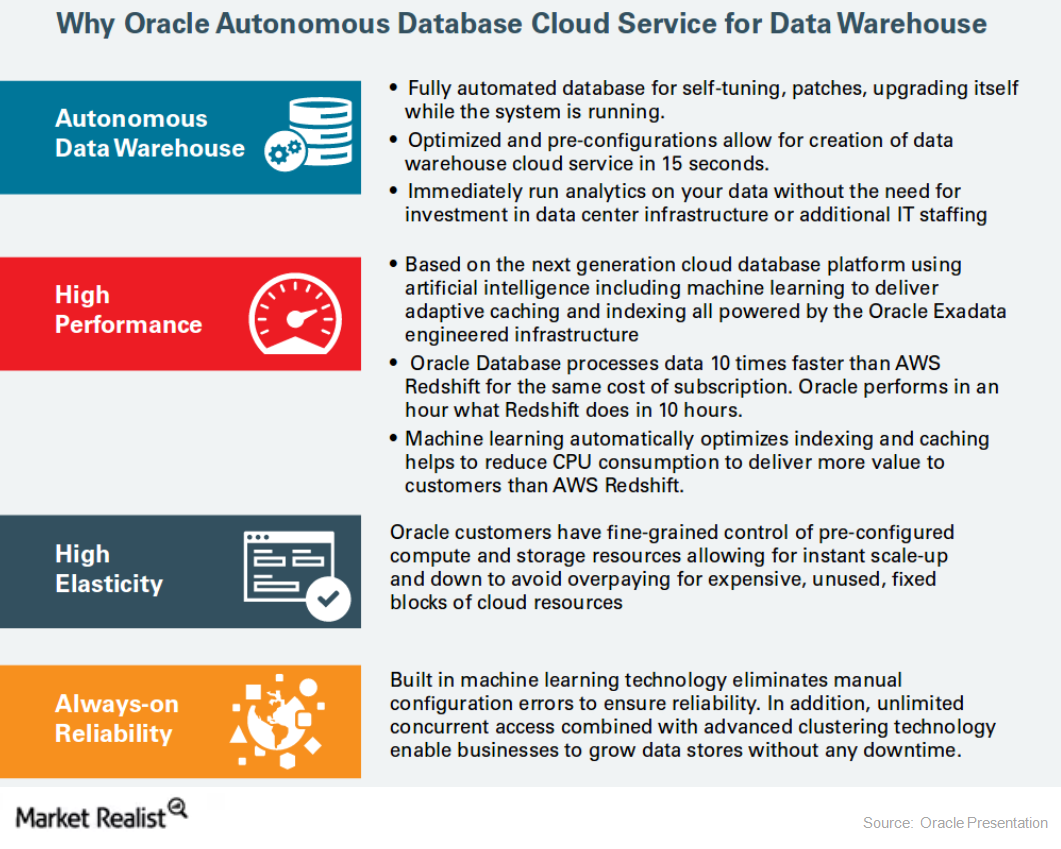 How Oracle Is Promoting Oracle Autonomous Data Warehouse Cloud
By Anne Shields

Apr. 6 2018, Updated 7:34 a.m. ET
First service based on the Oracle Autonomous Database
Earlier in the series, we discussed Oracle's (ORCL) copyright win against Google (GOOG). On March 27, 2018, at an Oracle event, Oracle announced the global availability of Oracle Autonomous Data Warehouse Cloud. Oracle Autonomous Data Warehouse Cloud is the first service based on Oracle Autonomous Database and uses ML (machine learning) to manage the database.
Larry Ellison, Oracle's chief technology officer, compared Oracle's new database to Amazon's (AMZN) and said, "This technology changes everything." He added, "The Oracle Autonomous Database is based on technology as revolutionary as the Internet. It patches, tunes, and updates itself. Amazon's databases cost more and do less."
Article continues below advertisement
Machine learning integration with databases will affect data management and DBA
Referring to the consistent requirement to plug holes in systems that give hackers access to data, Ellison said, "It needs no human intervention. It will patch itself." The "elimination of human labor" is one of the key benefits of the Oracle Autonomous Database. Ellison is of the opinion that the machine learning application to databases will strongly impact the future of data management and DBA (database administration).
The Oracle Autonomous Database Cloud powered by its Database 18c uses ML to enable mechanization "that eliminates human labor, human error and manual tuning, to enable unprecedented availability, high performance and security at a much lower cost." Cybersecurity is the key feature of its database given the recent surge in data breaches and cybersecurity attacks on companies like Facebook (FB) and Equifax (EFX).
Richard Niemiec, chief innovation officer at Viscosity North America, is also of the viewpoint that database securing requires machine learning automation due to the need to analyze logins, audit logs, locations, doubtful user access, and questionable IP (Internet Protocol) addresses. Viscosity North America is a cloud and database consultancy.
Niemiec said, "What's new with this announcement is the security advances that use machine learning and automatic patching." He added, "Fixing security vulnerabilities as they happen with automatic patching and using machine learning log mining for anomalies is the first step of autonomous security in the database."
The use of the Oracle Autonomous Database on the cloud could make data professionals more efficient, which will allow them to pay attention to the more critical databases, security issues, and a wide array of varied data sources.