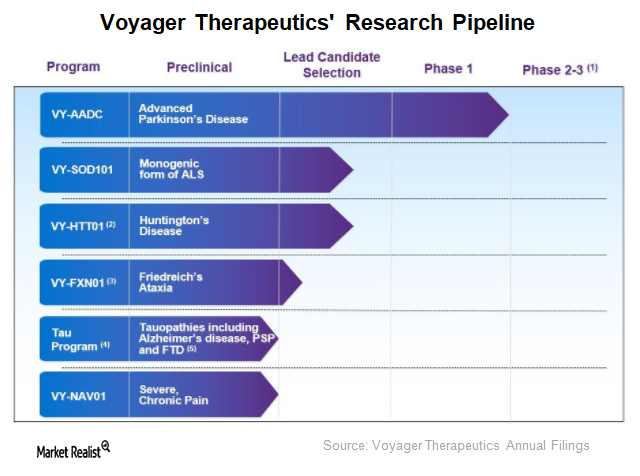 Exploring Voyager Therapeutics' Research Pipeline
By Kenneth Smith

Apr. 13 2018, Updated 9:35 a.m. ET
Research pipeline
Voyager Therapeutics' (VYGR) research pipeline consists of six programs targeting different neurological indications, including advanced Parkinson's disease, amyotrophic lateral sclerosis (or ALS), Huntington's disease, and Alzheimer's disease.
Article continues below advertisement
VY-AADC
Voyager Therapeutics' most advanced clinical candidate is VY-AADC for the treatment of advanced Parkinson's disease. The drug is currently in an open-label Phase 1 trial. In December 2017, Voyager submitted an investigational new drug (or IND) application for VY-AADC to the FDA. The company plans to begin Phase 2 and 3 clinical trials of the drug in mid-2018.
Notably, VY-AADC has received fast track designation from the FDA. Parkinson's is a chronic and progressive disease that affects ~1 million people in the United States and between 7 million and 10 million people worldwide. At present, there are only symptomatic treatments for Parkinson's and no therapies that can effectively slow or reverse the progression of the disease.
New developments
Additionally, Voyager Therapeutics plans to file two INDs from its ALS, Huntington's disease, and Friedreich's ataxia programs in 2019. The company initiated additional preclinical studies to optimize its ALS program's therapeutics approach in late 2017. It selected VY-HTT01 as a clinical candidate for Huntington's disease. Voyager Therapeutics expects to identify a lead clinical candidate for treating Friedreich's ataxia in 2H18.
Collaboration with AbbVie
In February 2018, Voyager Therapeutics announced a collaboration with AbbVie (ABBV) for the development of gene therapies targeted at Alzheimer's disease and other neurodegenerative diseases. Under the agreement, Voyager Therapeutics received $69 million in up-front payments and is additionally eligible to receive up to $895 million in development and regulatory milestones.
Voyager Therapeutics is also conducting proof of concept studies on its VY-NAV01 program for treating severe, chronic pain.
In the next part of the series, we'll take a look at the financial performance of Voyager Therapeutics.