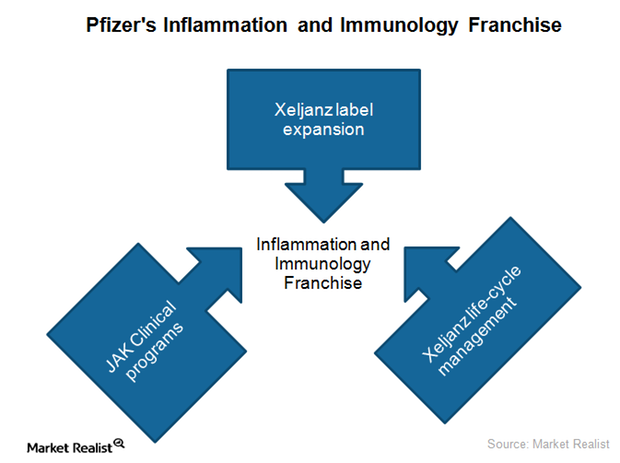 Eliquis and Xeljanz: Key Growth Drivers for Pfizer in 2018
By Margaret Patrick

Apr. 30 2018, Updated 7:32 a.m. ET
Eliquis: Growth trends
In 2017, Pfizer (PFE) earned $2.5 billion from sales of Eliquis through direct sales and through its alliance with Bristol-Myers Squibb (BMY). The drug has already attained the position of the number-one, new-to-brand oral anticoagulant prescribed by cardiologists in 21 countries. It poses tough competition to Johnson & Johnson's (JNJ) Xarelto. The increasing penetration of the novel oral anticoagulant (or NOAC) class of drugs in the oral anticoagulant (or OAC) market and the rising share of Eliquis in the NOAC segment is expected to boost the drug's sales in the coming years.
Article continues below advertisement
Pfizer is focused on increasing Eliquis's market share in the venous thromboembolism (or VTE) segment and making it a leader in reducing the risk of stroke systemic embolism. Based on real-world data, the company plans to secure preferential access and increased coverage from payers. Pfizer also aims to increase the diagnosis of nonvalvular atrial fibrillation patients, which in turn will boost demand for Eliquis in future years.
The above diagram shows key strategic initiatives of Pfizer's inflammation and immunology frachise.
Inflammation and immunology franchise
In 2017, Pfizer earned $1.3 billion from sales of Xeljanz, which is a YoY (year-over-year) rise of 45%. Xeljanz has already been approved for rheumatoid arthritis and psoriatic arthritis indications. The company expects to secure FDA approval for the drug in the ulcerative colitis (or UC) indication in 2018. In March, the FDA's gastrointestinal (or GI) advisory committee unanimously voted in favor of Xeljanz in the UC segment. Xeljanz is expected to enable Pfizer to aggressively compete with other inflammation and immunology players such as AbbVie (ABBV), Celgene (CELG), and Johnson & Johnson.
Pfizer also has seven ongoing JAK (Janus kinase) research programs involving six immunokinases of which five are oral therapies. These drugs are being developed to target areas where first-generation JAK inhibitors such as Xeljanz are less effective. Pfizer has the first and only oral, once-daily JAK1 drug, which is being evaluated in the atopic dermatitis indication in a Phase 3 trial. The company also has an investigational TYK2/JAK1 inhibitor in its portfolio, which is being explored in psoriasis, UC, and Crohn's disease. The company is also studying two JAK inhibitors in the dermatology segment, targeting alopecia. These programs are expected to enable Pfizer to manage Xeljanz's life cycle and expand its presence in the JAK inhibitor space.