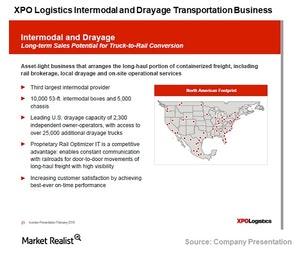 Decoding XPO Logistics' Intermodal and Drayage Business
XPO Logistics' Intermodal and Drayage business
XPO Logistics' (XPO) Intermodal business is light on assets and provides its customers' rail and drayage transportation through independent contractors. Drayage services are used to transport containers of goods over a short distance.
The company also provides on-site container capacity and operational services to its customers. XPO is the third-ranked major provider of intermodal services in North America.
Currently, XPO has about 10,000 53-foot intermodal boxes that are company-owned or leased as well as 5,000 chassis units. This equipment is used by XPO to fulfill its customers' capacity requirements.
XPO uses a proprietary technology called Rail Optimizer for its intermodal services. This proprietary technology has allowed the company to raise the level of its services, implement a reduction in empty miles, and increase the visibility of its services.
XPO believes that there is significant room for growth when it comes to the intermodal and drayage business in North America. Rail transportation in the United States is a cheaper and more fuel-efficient process than long-haul truck transportation.
Another factor that could see a rise in the intermodal business is the increase in rail transportation when it comes to cross-border transportation (XTN) between the US and Mexico.
Article continues below advertisement
Article continues below advertisement
XPO's peers
According to Werner Enterprises (WERN), citing a research report by ATA and Stifel Nicolaus, the freight transportation market in the United States could be worth $969.0 billion this year. The intermodal rail transportation is expected to have a 2.0% share of this market. The intermodal rail market is expected to be worth $18.3 billion.
Intermodal drayage transportation is a part of Werner Logistics. Werner Logistics generated revenues of $418.0 million in fiscal 2017 and made up 20.0% of Werner Enterprises' total revenues of $2.1 billion in fiscal 2017.
Union Pacific Railroad (UNP) links 23 states by rail, and it had total freight revenues of $19.8 billion in fiscal 2017. Intermodal revenues, a part of the company's total freight revenues, totaled $3.8 billion in fiscal 2017, up 3.0% year-over-year.