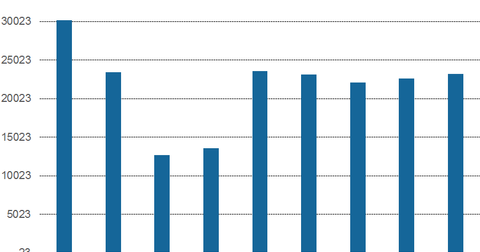 A Look at Nokia's Historical and Future Revenue Growth
By Adam Rogers

Apr. 17 2018, Published 5:35 p.m. ET
Revenue expected to rise 4.2% in fiscal 2018
In the previous part of this series, we learned that analysts expect Nokia's (NOK) revenue to rise 10.4% YoY (year-over-year) in fiscal 1Q18. The company's EPS or earnings per share are expected to rise over 33% in the quarter. Analysts expect Nokia's revenue to rise 5% YoY to $6.6 billion in 2Q18, to rise 1.2% YoY to $6.59 billion in 3Q18, and to fall 0.6% YoY to $7.84 billion in 4Q18. This outlook indicates revenue growth of 3.4% YoY to $27.35 billion in fiscal 2018. Analysts also expect the company's revenue to rise 2.9% in fiscal 2019 to $28.13 billion.
Nokia's non-GAAP (generally accepted accounting principles) EPS are expected to fall 33.3% to $0.06 in 2Q18 and over 21% to $0.29 in fiscal 2018. Its EPS are then expected to rise almost 35% to $0.39 in fiscal 2019.
Article continues below advertisement
EBITDA and operating profit
We know Nokia's profit margin is expanding more quickly in 1Q18. However, this trend reversed after the quarter that ended in March 2018 up until the end of fiscal 2018. From the above table, we can see that Nokia's revenue fell drastically by over 22% in fiscal 2013 as the company exited the smartphone business and sold it to Microsoft (MSFT). Revenue continued to decline, by over 45% in fiscal 2014. Sales rose 6.6% in fiscal 2015. After Nokia acquired Alcatel Lucent in 2016, revenue rose 74% that fiscal.
The company reported EBITDA (earnings before interest, tax, depreciation, and amortization) up 27% in fiscal 2016 while its operating profit rose over 11%. EBITDA rose 15% while operating profit rose 19% in fiscal 2017.
Analysts expect Nokia's EBITDA to fall 9.6% in fiscal 2018. However, its EBITDA are expected to rise 19% in fiscal 2019 and 8.7% in fiscal 2020. Nokia's operating profit is expected to fall 13% in fiscal 2018 and rise 20% in fiscal 2019 and 8.7% in fiscal 2020.