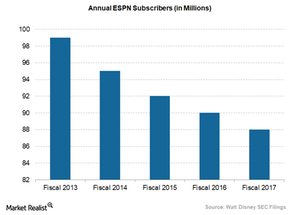 Will Disney's Streaming Services Curb Falling ESPN Subscribers?
Declining ESPN subscribers
The Walt Disney Company's (DIS) flagship sports network, ESPN, has been facing a continued decline in its number of subscribers over the past few years.
At the end of fiscal 2017 (which ended in September 2017), media giant Disney reported 88 million US subscribers for ESPN, down from 90 million at the end of fiscal 2016. The decline in ESPN subscribers was a result of cord-cutting and a lack of advertising.
Article continues below advertisement
Article continues below advertisement
Rise in OTT services hurting ESPN subscribers
ESPN, which forms part of Disney's Cable Networks segment, has been facing declining subscriber numbers due to the rising demand for online viewing. Lately, there's been a drastic decline in consumers subscribing to traditional cable channels due to the rising popularity of video streaming service providers such as Netflix (NFLX), Amazon's (AMZN) Amazon Prime, and Alphabet's (GOOGL) YouTube. Online streaming services are much cheaper than traditional cable companies' offerings, and they're also popular among the younger generation.
Lower advertising revenues and increased programming costs are negatively impacting ESPN's performance.
ESPN Plus streaming service
To combat cord cutters and prevent its subscriber base from falling, Disney is launching a direct-to-consumer ESPN online subscription service called ESPN Plus in mid-2018 for $4.99 per month. Disney's streaming service will offer live games that aren't usually available on the network's regular channels through an ESPN app.
However, according to Forbes, ESPN Plus is unlikely to prevent subscriber declines due to the limited availability of content for streaming. The report states that ESPN's subscriber numbers will likely continue to decrease in the near term and that the company can likely only increase revenue for ESPN by raising the average subscription fee. The report expects ESPN's revenue to rise 1%–2% annually.