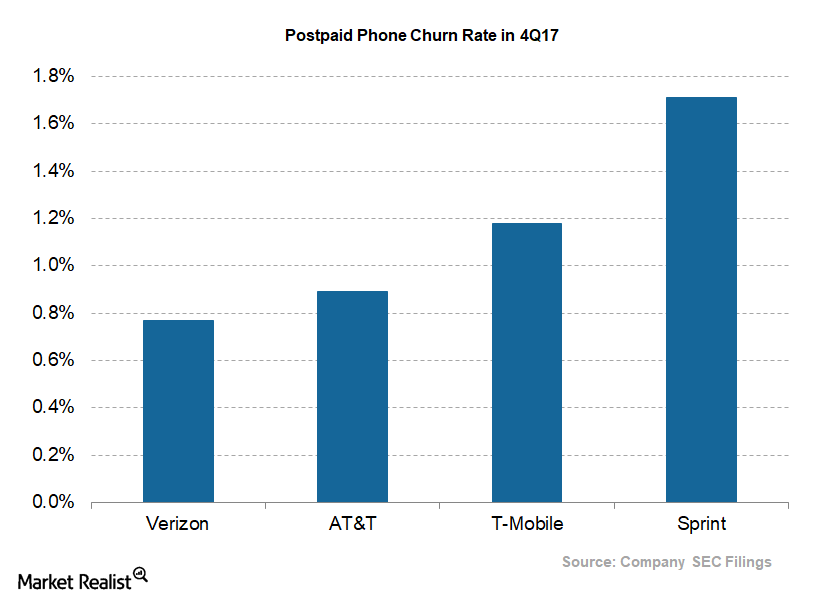 Why T-Mobile's Porting Ratios Continue to Improve
T-Mobile's postpaid phone churn rate
Let's look now at T-Mobile's (TMUS) customer retention metric, or churn rate. Its postpaid phone churn rate continued to decline YoY (year-over-year) during 4Q17 to 1.2%, which was lower than the comparable figure of 1.3% in 4Q16.
During the Morgan Stanley Technology, Media, and Telecom Conference on February 28, 2018, Braxton Carter, T-Mobile's chief financial officer, talked about T-Mobile's porting ratios. He said that quarter-to-date, the porting ratio is 1.7, up from 1.68 in 4Q17. He added that it reflects the strength of the T-Mobile brand and its product offering.
The lower churn helps telecom (telecommunications) companies save on acquisition costs related to acquiring a subscriber, which, in turn, helps them expand their operating margins.
Article continues below advertisement
Article continues below advertisement
Peer comparison of postpaid phone churn in 4Q17