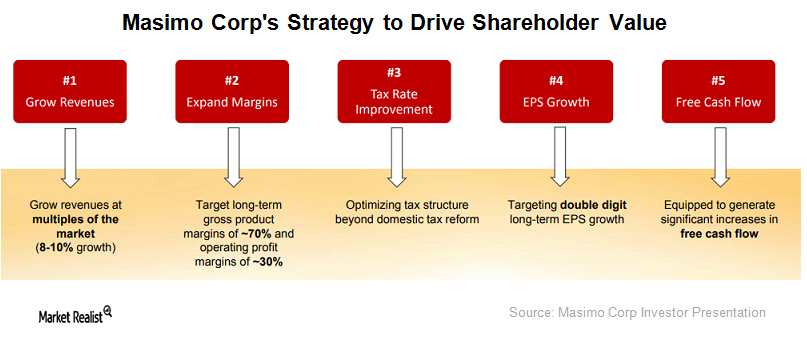 What's Masimo's Business Strategy?
By Kenneth Smith

Mar. 8 2018, Updated 2:20 p.m. ET
Core business
Masimo's (MASI) core business is measure-through motion and low perfusion pulse oximetry monitoring, which is known as "Masimo Signal Extraction Technology" or SET pulse oximetry. The company's product portfolio also includes noninvasive monitoring of blood constituents with an optical signature, optical organ oximetry monitoring, electrical brain function monitoring, acoustic respiration monitoring, and exhaled gas monitoring.
Article continues below advertisement
Masimo developed the Root patient monitoring and connectivity platform, the Radical-7 and Rad-97 bedside and portable patient monitors and the Radius-7 wearable wireless patient monitor. Masimo also developed the patient SafetyNet supplemental remote patient surveillance and monitoring system. Currently, the system allows care providers to simultaneously monitor up to 200 patients through their pagers or smartphones.
Business strategy
Masimo's business strategy to achieve sales growth and improve its market position involves following key approaches:
expanding the market share in Pulse Oximetry
expanding the pulse oximetry market to other patient care settings
expanding the use of Masimo's rainbow technology in hospital and non-hospital settings
utilizing the existing customer base and OEM relationships to market Masimo's rainbow SET
continuing to innovate and maintain Masimo's technology leadership position
Masimo's future growth strategy is also focused on international expansion opportunities. The company continues to expand its sales and marketing efforts in Europe, Asia, Asia-Pacific, the Middle East, and Latin America.
Masimo has centralized part of its international operations in Switzerland. Masimo wants to develop a more efficient and scalable international organization that's responsive to international customers' business needs.
Share repurchase program
In September 2015, Masimo adopted a share repurchase program to repurchase up to five million shares over a period of up to three years. In fiscal 2017, Masimo repurchased 0.8 million shares under this program. At the end of December 2017, the remaining shares authorized for repurchase were 2.1 million.
Next, we discuss Masimo's geographic segments.