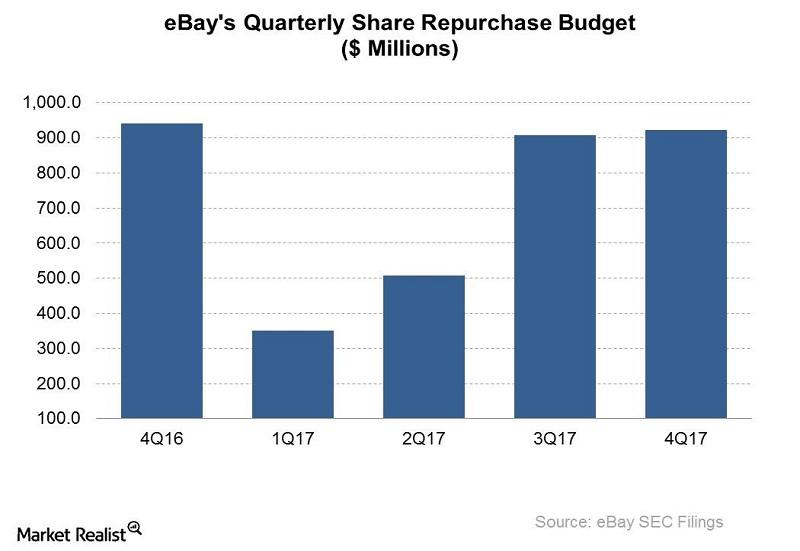 What You Should Know about eBay's Repurchase Program
By Neha Gupta

Mar. 16 2018, Updated 10:30 a.m. ET
eBay retired nearly 25 million shares in 4Q17
eBay (EBAY) returns value to its shareholders through its share repurchase program, which has seen the company return billions of dollars to shareholders in recent years.
In 4Q17, eBay repurchased $922 million worth of shares at an average price of $36.99. As a result, eBay reduced its number of outstanding shares by 24.9 million in 4Q17. Its repurchases for the whole of 2017 totaled $2.7 billion. Groupon (GRPN) repurchased $60 million worth of its shares in 2017. Yelp repurchased $12.6 million worth of its shares in 2017.
Article continues below advertisement
eBay boosts repurchase program by $6.0 billion
Google's parent, Alphabet (GOOGL), intends to repurchase $8.6 billion worth of its shares starting in 2018. IBM (IBM) repurchased $0.7 billion worth of its shares in 4Q17 and had $3.8 billion remaining under its current repurchase authorization. Amazon (AMZN) stayed out of the share repurchase scene in 2017.
At the end of 4Q17, eBay had $1.7 billion remaining under its previously authorized repurchase program. Before eBay could exhaust its previous repurchase authorization, its board approved an additional $6.0 billion share repurchase program.
eBay shares rose nearly 30% in 2017. Amazon shares rose ~56% in 2017.
Offsetting the impact of stock dilution
eBay's share repurchase program is intended to offset the impact of dilution stemming from equity compensation to its employees. Under its repurchase program, eBay can repurchase shares through open-market transactions or enter into privately negotiated transactions with shareholders. eBay uses working capital and other financing alternatives to fund its share repurchase program.