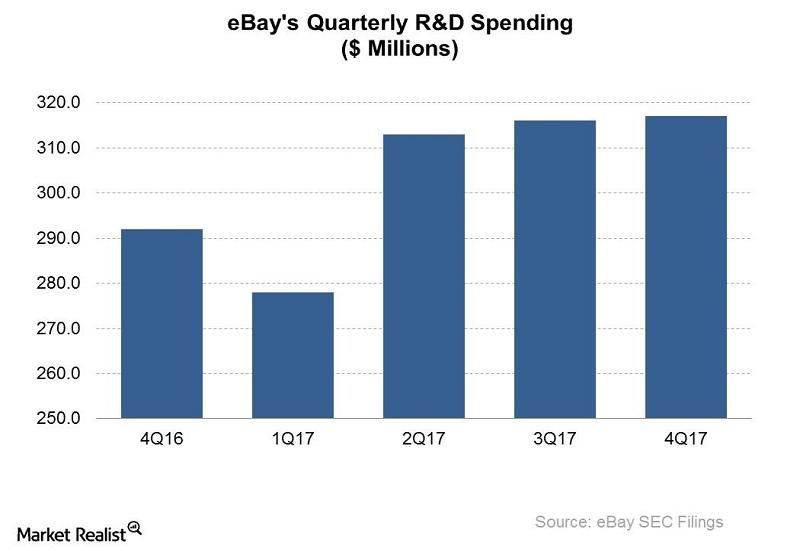 What to Know about eBay's Research and Development Spending
R&D budget increased 8.6%
eBay (EBAY) continued boosting its R&D (research and development) budget throughout 2017, leading to a 9.9% increase in its R&D costs overall in the year.
eBay's R&D costs rose 8.6% YoY (year-over-year) to $317 million in 4Q17. The company's R&D costs jumped 9.7% YoY in 3Q17, 6.1% YoY in 2Q17, and 16.3% YoY in 1Q17.
Article continues below advertisement
Article continues below advertisement
eBay invests in product experience improvement
eBay's rising R&D costs have been driven by its investments in product experience improvements, and the company is likely to continue this practice in 2018. While discussing the company's 4Q17 results with analysts and investors, eBay's CEO, Devin Wenig, said that artificial intelligence (or AI) is powering many aspects of the company's buying and selling experience. As such, Wenig hinted that eBay would continue to invest in AI and innovations around virtual and augmented reality.
"Looking to 2018, our strategy remains unchanged. We intend to raise the bar on our customer experience and again accelerate growth despite tougher comps. We'll focus on key areas of our user experience, including search, delivery and returns, customer service and payments, while continually planting the seeds of technology innovation," Wenig said on the company's 4Q17 earnings conference call.
eBay's rivals also increased their R&D spending
eBay's e-commerce competitors Amazon (AMZN), Alibaba (BABA), and JD.com (JD) also increased their R&D spending in 4Q17. Amazon's R&D budget increased 40% YoY. Alibaba expanded its R&D budget 43.2% YoY in 4Q17, while JD increased its R&D budget 75% YoY in the same quarter.
At Google's parent, Alphabet (GOOGL), and Facebook (FB), R&D spending increased 19.4% and 18.8% YoY, respectively, in 4Q17. Google and Facebook are active in AI innovation.