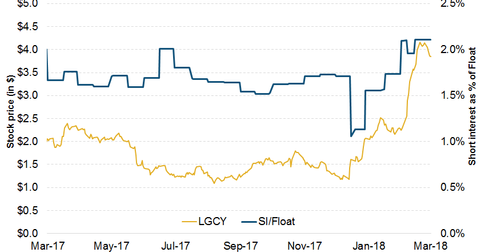 What Do Legacy Reserves' Technical Indicators Hint At?
By Kurt Gallon

Updated
Legacy Reserves' moving averages
Legacy Reserves (LGCY) continues to trade above both its long-term (200-day) and its short-term (50-day) moving averages. It was trading 38.4% above its 50-day simple moving average and 117.3% above its 200-day simple moving average on March 15, 2018. These differences indicate bullish sentiments in LGCY.
In comparison, LCGY's peers Mid-Con Energy Partners (MCEP) and EV Energy Partners (EVEP) were trading below their 50-day moving averages on March 15.
Article continues below advertisement
A steep fall in crude oil and natural gas prices, which seems unlikely, could push the partnership below its 50-day moving average, which would result in a bearish sentiment. On the other hand, the partnership's measures to improve its financial position could continue to drive a positive sentiment in its stock.
Short interest in Legacy Reserves
Short interest in Legacy Reserves was 1.2 million shares on March 15, 2018. At the same time, LGCY's short interest as a percentage of float ratio was 2.1%. The current short interest in LGCY is higher than the 30-day average of 2.0%. This difference could indicate a bearish sentiment in the stock. Moreover, the current short interest in LGCY is higher than its one-year average of 1.7%.
In the next article, we'll take a look at recent institutional activity in Legacy Reserves in 2018.