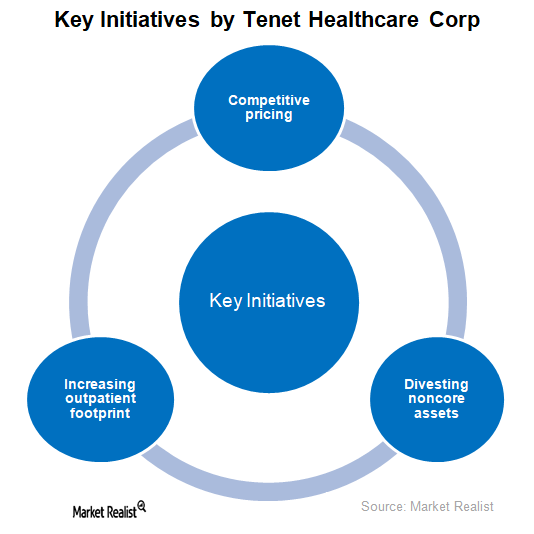 Understanding Tenet Healthcare's Business Strategy
Industry trends
Tenet Healthcare (THC) is facing a number of industry headwinds at present. The US healthcare industry is witnessing major trends in the face of the current administrative efforts to modify or potentially replace the Patient Protection and Affordable Care Act.
These trends include consumers, employers, and insurers seeking lower cost solutions as they become conscious of healthcare spending, the shifting of patient volumes from inpatient to outpatient settings due to demand for more convenient and affordable care, the migration to value-based payment models (with government and private payers shifting risk to providers), and consolidation across the entire healthcare sector.
Article continues below advertisement
Article continues below advertisement
Initiatives
To better position itself and compete effectively in this evolving healthcare environment, Tenet Healthcare has taken a number of steps. The company has set competitive prices for its services, directed investments at its facilities toward high-acuity inpatient service lines, increased its efforts to hire and retain quality physicians, nurses, and other healthcare personnel, greatly increased its outpatient footprint through a joint venture with United Surgical Partners International (or UPSI), negotiated competitive contracts with managed care and other private payers, and increased the participation of its hospitals in accountable care organizations.
In order to improve its performance and optimize its portfolio, Tenet Healthcare has taken a number of steps. In 2017, the company opened 11 new outpatient centers and acquired eight outpatient businesses.
In a bid to divest its noncore assets, Tenet Healthcare sold or discontinued four of its healthcare plans in 2017, and it intends to divest operations for its remaining healthcare plans by the end of 2018. The company is also focusing on driving growth in its hospital systems, expanding its ambulatory care segment, improving its profitability, and reducing its leverage.
In the next part of the series, we'll take a look at the business segments of Tenet Healthcare.