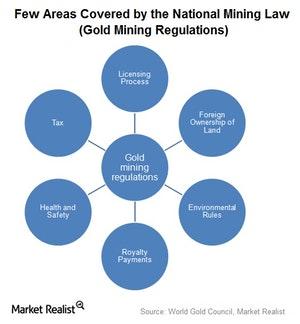 How Strict Is the Gold-Regulated Market?
World Gold Council
Gold is regulated
Trade in gold is widely authorized and regulated in many markets. Cryptocurrencies are broadly permitted, in that most countries have deferred granting them approval, while not banning them – although there are a few outliers at both extremes – Japan appears to have granted approval, and China has greatly restricted their use.
Some commentators have suggested bitcoin and other cryptocurrencies are at great risk of sudden restrictions from countries concerned about capital flight, investor protection, or loss of seigniorage. For example, South Korea, one of the world's largest cryptocurrency markets, has announced more regulatory measures. And in the UK, investors are facing hurdles to convert cryptocurrencies.
Article continues below advertisement
Monetary policy is a key central bank tool today. If people choose to transact in cryptocurrencies instead of fiat currency, it might make monetary policy less effective and undermine the tools used by the Fed and other central banks to influence the economy and prompt the government to regulate these products.
As it stands, from a US tax perspective for example, each transaction of cryptocurrencies is considered an asset sale according to US Internal Revenue Service (IRS) rules and should be reported as a gain or loss. This complicates transactions with retailers like Amazon, Target and Wal-Mart, which do not currently allow cryptocurrencies for transactions. In fact, many retailers have dropped support for bitcoin because so few people are using it to transact. This brings us to the point of whether cryptocurrency is being used for transactions or if it is traded and held more as a speculative investment.
Market Realist
Regulation: A major difference between bitcoin and gold
The major difference between gold and bitcoin is that while gold (GLD) is highly regulated, bitcoin is not. The legal status of bitcoin and other cryptocurrencies is unclear or changing in most countries. While many countries have allowed the use of bitcoins, others have completely banned it. In the United States, the U.S. Treasury has classified bitcoin as a convertible, decentralized, virtual currency, while the Commodity Futures Trading Commission has classified it as a commodity.
Article continues below advertisement
The Indian government has announced that it doesn't recognize cryptocurrency as legal tender or coin. China allows private parties to hold and trade bitcoins but prohibits any financial institution from doing so. China is planning to crack down on bitcoin mining. The United Kingdom is also planning to crack down on bitcoin by expanding the European Union's anti-money-laundering rules.
Bitcoin (ARKW) has seen its price plunge since the start of 2018 due to news that world leaders are planning to implement regulations on digital currencies. Bitcoin and other cryptocurrencies operate outside the conventional financial system. That has spurred fear of money laundering, fraud, and terrorist financing among regulators. World leaders are planning to hold talks on bitcoin in the March G20 (Group of 20) Summit.
The gold market, on the other hand, is highly regulated and monitored. There is no particular global regulation for gold. Rules, especially on the mining side, are governed individually by each nation. The chart above shows the areas that are covered by national mining laws. According to the World Gold Council, voluntary codes such as the Good Delivery standard and the Global Precious Metals Code are also in place to ensure smooth functioning of the global market. Besides national mining laws, regulations also exist for the responsible sourcing of gold. Gold regulations also include taxation rules at various stages of its exploration and production cycle.
The highly regulated gold market keeps investor trust intact and the market up and running. It promotes investment in the gold market through gold stocks for Eldorado Gold (EGO), Buenaventura Mining (BVN), Alacer Gold (ASR), Iamgold (IAG), and gold-based ETFs.