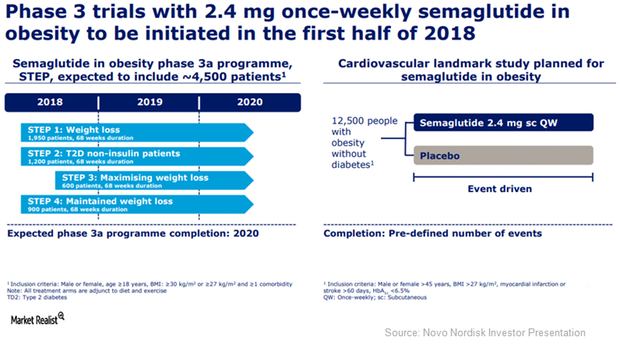 Semaglutide May Prove to Be an Effective Anti-Obesity Therapy
Semaglutide anti-obesity therapy
Novo Nordisk (NVO) plans to initiate its Phase 3a program, STEP, to study the efficacy of 2.4 mg of semaglutide once per week in obesity indications in 1H18. This study program, which will comprise four trials, is expected to be completed in 2020.
The company has planned to enroll ~4,500 people eligible to be enrolled in obesity trials in the STEP program. Of these, ~1,950 people are to be enrolled in STEP 1 trial, which aims to induce weight loss over a period of 68 weeks. In the STEP 2 trial, the company plans to test the efficacy of semaglutide in ~1,200 type 2 diabetes patients suffering from obesity and who aren't on insulin therapy for a trial duration of 68 weeks.
Article continues below advertisement
Article continues below advertisement
In the STEP 3 trial, the company plans to study the combined impact of pharmacotherapeutic intervention with semaglutide and intensive behavioral modification therapy to maximize weight loss in ~600 enrolled patients. The STEP 4 trial will enroll ~900 patients and evaluate the efficacy of semaglutide as a maintenance treatment for weight loss.
Semaglutide may thus prove to be a strong addition to Novo Nordisk's obesity product portfolio, enabling the company to compete effectively with competitors such as GlaxoSmithKline (GSK), Roche Holdings (RHHBY), and Arena Pharmaceuticals (ARNA).
SELECT trial
Additionally, Novo Nordisk also plans to initiate a cardiovascular outcomes study, SELECT, for evaluating the efficacy of semaglutide in obesity indications. This study is expected to enroll ~13,000 patients suffering from obesity. If the company manages to report favorable results from this trial, it will establish semaglutide as a cardio-protective therapy even in the nondiabetic population. Further, it will also demonstrate that obesity is a medical condition, and it will demonstrate the long-term efficacy of pharmacotherapy as a robust treatment option in obesity indications.
In the next article, we'll discuss Novo Nordisk's other research programs in greater detail.