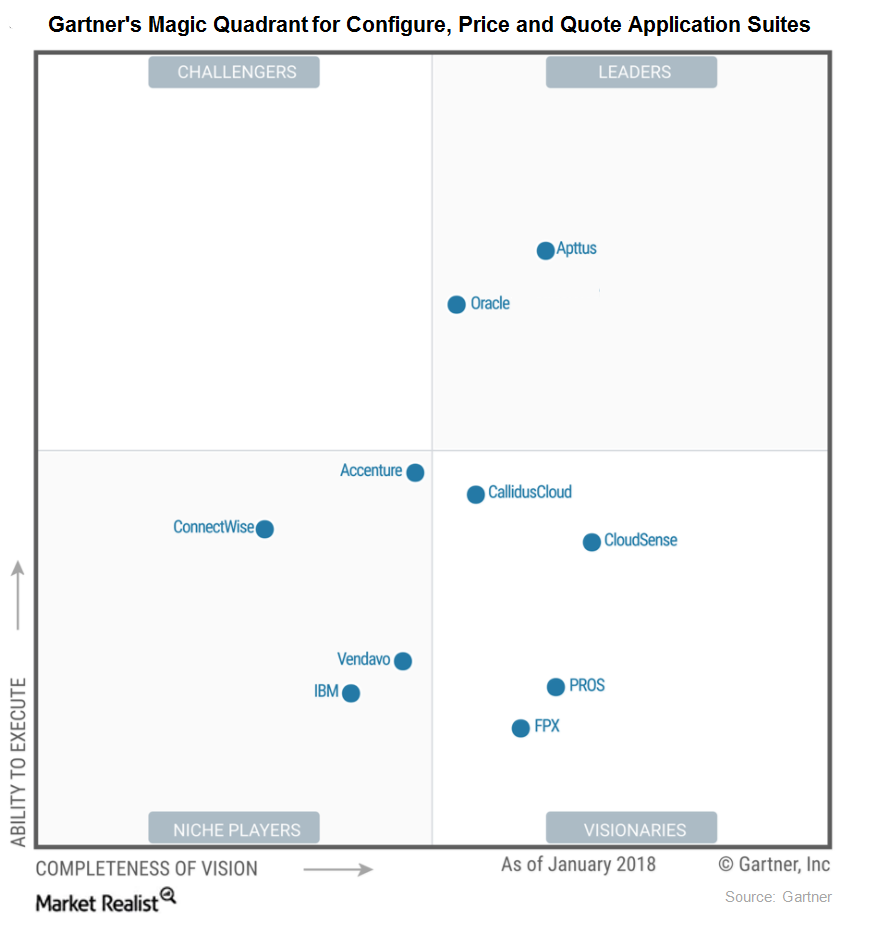 Oracle's Position in Configure, Price, and Quote Application Suites
Oracle is a leading player in CPQ Suite
In early March, Oracle (ORCL) announced that it had been positioned as a Leader in Gartner's 2018 Magic Quadrant for CPQ (Configure, Price, and Quote) Application Suites.
Let's look into what CPQ entails and what it means for Oracle's prospects. CPQ software allows sales teams to generate quotes with uniform pricing, including available discounts. CPQ software utilization ensures that accurate and optimized quotes are created, as human error poses the biggest obstacle in delivering fast and reliable quotes. CPQ software tackles this challenge.
In late December 2016, Gartner predicted that CPQ could grow 20.0% annually through 2020, making it will one of the most sought-after enterprise apps. A major portion of this growth is expected to originate from cloud-based offerings.
More than a year after this prediction was made, CPQ's usefulness and demand continue as automation and AI (artificial intelligence) are being deployed in business applications that include CPQ.
Article continues below advertisement
Article continues below advertisement
SAP acquired Callidus Software in CPQ space
In January 2018, Germany-based (EWG) SAP (SAP) announced the acquisition of Callidus Software for $2.4 billion. This buyout ranks among one of the few expensive acquisitions company have made to date. Callidus Software is a CPQ software and sales performance management leader.
With this acquisition, SAP cemented its position in CPQ's list of prominent players, as Callidus Software was featured in the Leader Section of the Forrester Wave: Configure-Price-Quote Solutions in 1Q17. It was placed as a visionary Gartner's CPQ report in January 2018.
Such acquisitions imply growth opportunities in the CPQ space, which could bode well for Oracle and its leadership position in this space.