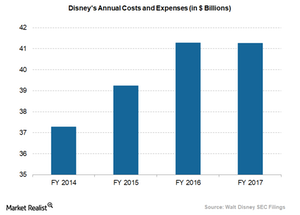 How Will Disney Benefit from Its 21st Century Fox Acquisition?
Disney's acquisition
Media behemoth the Walt Disney Company (DIS) has announced the purchase of another media company, 21st Century Fox (FOXA), by way of which it will acquire Fox's film and entertainment units for an equity value of $52.4 billion.
Article continues below advertisement
Article continues below advertisement
Acquisition benefits
According to the merger deal, Disney will gain access to 21st Century Fox's popular film production businesses, including 20th Century Fox, Fox Searchlight Pictures, Fox 2000, and Fox's television businesses, including 20th Century Fox Television, FX Productions, and Fox21. The addition of FX Networks, National Geographic Partners, Fox Sports Regional Networks, Fox Networks Group International, Star India, and Fox's stakes in Hulu, Sky, Tata Sky, and Endemol Shine Group will further enhance Disney's entertainment business.
Disney's acquisition of Fox will enhance its portfolio with popular franchises and branded content. The addition of Fox will give Disney access to hit movie franchises such as X-Men, Avatar, and Planet of the Apes. Such strong brands will thereby boost Disney's home entertainment revenue along with its theatrical business.
The union of Fox's lingering Marvel characters with the rest of the Marvel Cinematic Universe will likely bring considerable benefits to Disney. Disney will further be able to expand its international revenue mix and exposure.
Article continues below advertisement
The acquisition of a dominant stake in video streaming company Hulu will also strengthen the company's planned over-the-top streaming services. Disney also plans to offer more premium content to its online subscribers as more and more people trend toward video streaming services provided by players such as Netflix (NFLX), Amazon (AMZN), and Sony (SNE).
Disney to cut expenses
Disney expects to cut down on its expenses after its acquisition of Fox. Disney seeks to eliminate at least $2.0 billion in costs following the acquisition deal. Disney's operating expenses stood at $41.3 billion in fiscal 2017.