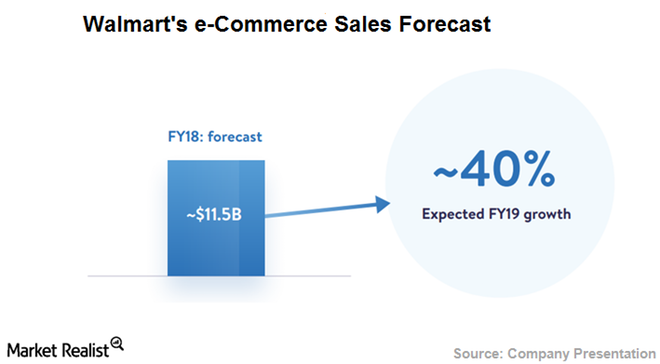 How Walmart Is Increasing Its Online Presence
Walmart to offer home delivery of groceries in 100 cities
Retail giant Walmart (WMT) will expand its home delivery of groceries from its current total of six cities to 100 cities by the end of this year as its rivalry with e-commerce king Amazon (AMZN) intensifies. Walmart will also offer same-day delivery in New York City.
The announcement came as Walmart's competitors in the space have started offering, or are likely to start offering, similar services. Amazon is rolling out its Prime Now Delivery, while Target (TGT) has acquired delivery startup Shipt for $550 million. Walmart's latest push online may have been prompted by the slowdown in online revenue growth in its most recent quarter, which led to a 10% fall in its stock.
Article continues below advertisement
Article continues below advertisement
Walmart will be offering home delivery of groceries despite investing in pickup service
Walmart has invested a lot of money into its grocery pickup business, which is available in 1,200 stores. The pickup service allows customers to pick up their online orders without getting out of their cars. While Walmart customers don't have to pay extra fee for the pickup service, the online delivery service will come with a $9.95 delivery fee.
Amazon's acquisition of Whole Foods in 2017 has prompted traditional grocers to increase their online presences.
Walmart's stock price has fallen 10.6% year-to-date, mostly due to the double-digit fall it saw after reporting its quarterly earnings last month.