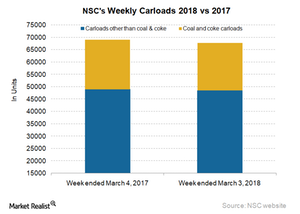 How Norfolk Southern's Shipments Trended in Week 9
Norfolk Southern's shipments in Week 9
Norfolk Southern (NSC) provides railroad services in the southeastern, eastern, and midwestern United States. In the week ended March 3, 2018, the company saw a ~2% fall in carload traffic. It hauled ~67,700 carloads in the week, a fall of 1,300 units compared to the 69,000 carloads it hauled in the week ended March 4, 2017.
NSC's carload traffic loss stood in sharp contrast to the 1.3% overall rise reported by US railroad companies (GWR). Norfolk Southern recorded a lower loss in percentage terms compared to its rival CSX Corporation (CSX), a trend observed for the last several weeks.
Article continues below advertisement
Excluding coal (BTU) and coke, other carload commodity groups witnessed a minor 1.1% carload traffic loss in the ninth week of 2018. The railroad company moved 48,400 carloads sans coal and coke, slightly lower than the 49,000 carloads it moved in 2017. Coal and coke carloads declined 3.9% to 19,300 units in Week 9 of 2018. In the corresponding week last year, Norfolk Southern hauled more than 20,000 coal and coke carloads.
Rises and falls in carload commodity groups
These commodity groups saw spikes in their volumes:
chemicals
crushed stone, sand, and gravel
petroleum products
pulp, paper, and allied products
These carload commodity groups posted contractions in their shipments:
food and kindred products
grain
motor vehicles and equipment
stone, clay, and glass products
Norfolk Southern and intermodal traffic in Week 9
In the ninth week, Norfolk Southern posted an 11% rise in its intermodal traffic. The company carried over 84,000 containers and trailers in the week compared to over 75,700 units last year. Containers accounted for 90.3% of total intermodal traffic, whereas trailers accounted for 9.7%. NSC's container traffic was up 10.1% to 75,800 units in 2018 compared to ~68,800 units last year. Its trailer traffic rose 20.4% in the ninth week of 2018 to ~8,200 units from 6,800 units in 2017.
On an overall basis, Norfolk Southern posted a 4.9% gain in Week 9 of 2018. This gain was lower than the expansion noted by the US rail carriers (FXR) in the week.
Stay tuned for an update on CSX's freight volumes.