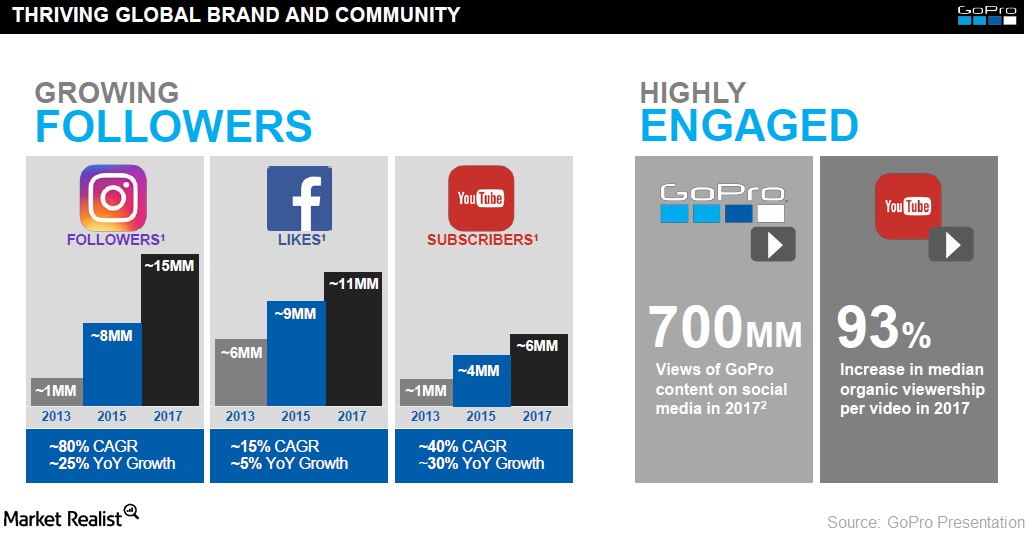 How Is GoPro Improving Social Media Engagement?
App store rating rises significantly
GoPro's (GPRO) App Store rating has improved significantly from 2.7 stars in September 2017 to 4.7 stars in December 2017. The company has experienced a YoY (year-over-year) rise of in the number of HERO5 and HERO6 customers that have connected to the app from 58% in 2016 to 80% in 2017.
The number of new cameras connected to the app rose by 36% YoY to 2.2 million. Quik App installs for GoPro rose 120% YoY to 26 million in 2017, and the app was among Google's (GOOG) (GOOGL) Play Store's best apps of the year for the second year in a row.
Article continues below advertisement
Article continues below advertisement
Increase in social media followers
GoPro has been closely tracking user engagement with respect to its devices, apps, and ad content. GoPro gained over 4.8 million new followers on social media in 2017, a rise of 16% YoY. It now has ~35 million followers. We can see that GoPro has 15 million followers on Instagram, a rise of 25% YoY. It has over 11 million Likes on social media giant Facebook (FB) and 6 million subscribers on YouTube.
GoPro content was viewed 700 million times last year, indicating a rise of 25% YoY. CEO Nicholas Woodman stated, "Consumer engagement with our brand is strong as indicated by the 16% increase in social followers last year. We believe this creates an exciting opportunity for us to market our 2018 line-up, our best-valued products ever."