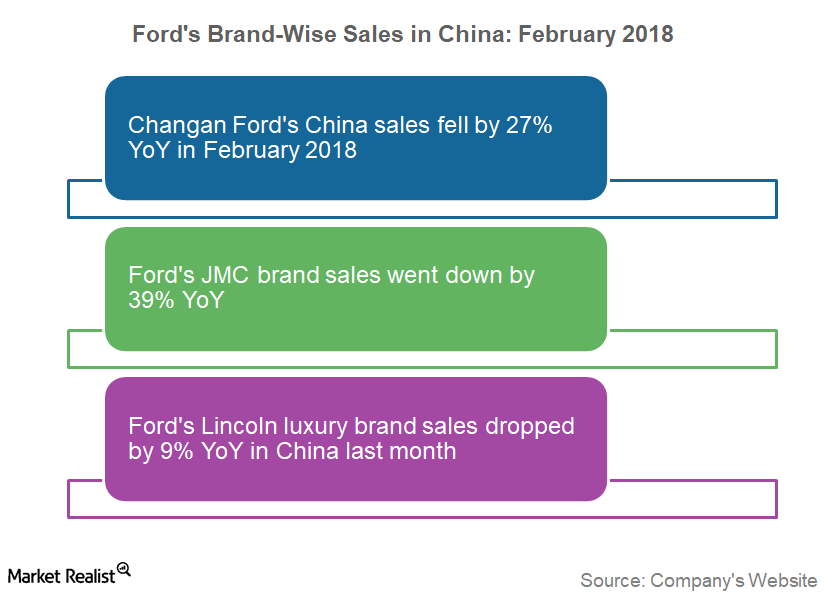 How Ford's Key Brands Performed in China in February 2018
Ford in the Chinese market
In 4Q17, Ford Motor Company's (F) Asia-Pacific region's revenue rose 11% YoY (year-over-year). However, the region had a negative impact on its profitability. Unfavorable pricing pressures and volumes in China stole ~$279 million from Ford's pretax profits in the quarter.
On the positive side, Ford's share in the Chinese market fell to 4.0% in 4Q17 compared to 4.2% in the previous quarter and 4.5% in 4Q16.
Article continues below advertisement
Article continues below advertisement
Brand-wise Chinese sales in February
In February 2018, the Chinese vehicle sales (FXD) performances of Ford's key brands were as follows:
The sales of Ford's key Chinese brand, Changan Ford, fell 27% YoY to 31,000 vehicle units, much lower than its January sales of 47,000. In 2017, Changan Ford's total brand sales fell ~14% YoY to 827,000 units.
Last month, Chinese sales of the JMC brand fell 39% YoY to 13,000 vehicle units. In January, ~23,000 JMC brand units were sold. Last year, JMC's Chinese sales rose ~11% YoY to 293,000 units.
Only ~2,651 units of the Lincoln luxury brand of vehicles were sold in China last month, down 9%. Lincoln's sales rose 7% YoY in January 2018. The company sold 54,000 vehicle units of the luxury brand in China in 2017, a rise of ~66% YoY.
In February 2018, Chinese sales of Ford's imported vehicles, including Mustang, Explorer, and Focus, fell 24% YoY to 876 units. This was the fourth consecutive month during which Ford's imported vehicle sales in China fell YoY.
Note that mainstream auto companies such as Ford, General Motors (GM), Toyota Motor (TM), and Fiat Chrysler Automobiles (FCAU) primarily sell their vehicles in the Chinese market through their joint ventures with local Chinese auto companies. This strategy helps these global auto companies to better understand the local consumer base and market of the country.
In the next article, we'll look at GM's Chinese sales in February 2018.