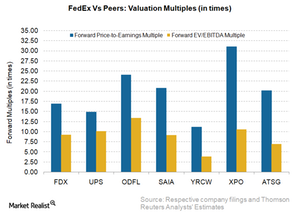 FedEx's Valuation Compared to Its Peers after Fiscal 3Q18
By Samuel Prince

Mar. 26 2018, Updated 9:31 a.m. ET
FedEx's views on global trade
FedEx (FDX) has clearly expressed its concerns about the protectionism stance adopted by the US government. Although the company anticipates US tax reforms to boost its economic growth, it fears a backslash in a possible widely anticipated trade war. Given FDX's operations worldwide, a trade battle could prove to be a hindrance to its international growth. On its 3Q18 earnings call, management stated that "history is shown repeatedly that protectionism is counterproductive to economic growth. The better approach is to encourage open markets and free exchange of products and services and to reduce barriers to trade."
Article continues below advertisement
FedEx's valuation against its peers
For valuation purposes, we'll consider FedEx's forward PE (price-to-earnings) multiple and forward EV-to-EBITDA (enterprise value to earnings before interest, tax, depreciation, and amortization) ratio. While a forward PE ratio focuses on stock owners, the forward EV-to-EBITDA multiple considers lenders as well. Forward PE implies the dollars payable today for every dollar of earnings per share in the future. The EV-to-EBITDA multiple focuses on cash earnings available to both lenders and stockholders.
Based on the forward PE multiple, XPO Logistics (XPO) tops the peer group for parcel delivery companies and LTL (less-than-truckload) carriers (XTN) with a multiple of 31.06x. With its major acquisitions in 2016, the company's EPS is expected to rise a whopping 206% in the next year to $3.36 from $1.10 last year.
It's followed by Old Dominion Freight Lines (ODFL) with a multiple of 24.07x. The company's one-year forward EPS (earnings per share) is anticipated to rise 43.6%. Saia's (SAIA) forward PE multiple is 20.81x. Between FedEx and United Parcel Service (UPS), the former has a higher forward PE multiple of 16.9x, whereas the latter has a multiple of 14.87x. While FDX's earnings are expected to rise ~33% in the next year, UPS is expected to rise 36.2x.
Based on the EV-to-EBITDA multiple, YRC Worldwide (YRCW) has the lowest multiple of 3.89x. Notably, the company incurred a loss at the operational level for many years. ODFL has the highest forward EV-to-EBITDA multiple of 13.36x. Between FedEx and UPS, the former's multiple is 9.3x, while it's 10.18x for UPS. UPS's EBITDA margin of 15.8% is higher than FedEx's at 13.4%.