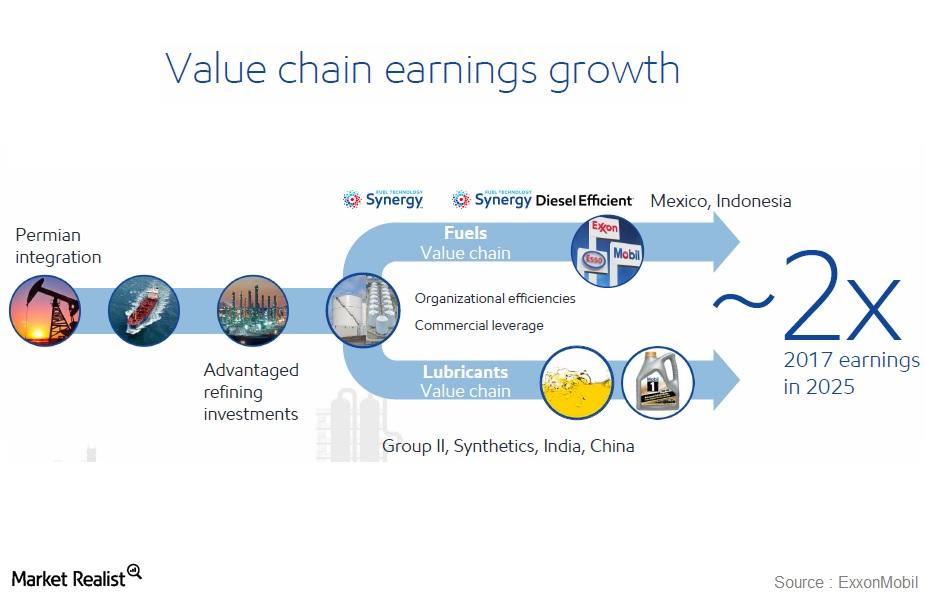 ExxonMobil's Potential in Downstream and Chemicals
Focus on downstream and chemicals growth
In the previous part, we looked at ExxonMobil's (XOM) expected upstream earnings growth. Now, we'll look at its downstream and chemical earnings growth targets.
ExxonMobil expects its downstream earnings to double by 2025 over 2017. That could be possible due to a restructured downstream portfolio, which saw a series of divestments in the past few years. The company plans to keep only the most competitive projects in its portfolio. The technological advantage and shift to higher value-refined products are expected to ramp up its margins by 20%. Its focus on a fully integrated value chain, especially around the Permian region, is expected to support earnings growth.
Article continues below advertisement
Article continues below advertisement
In the chemicals segment, ExxonMobil expects its earnings to double by 2025 over 2017. That's mainly due to growth in capacities through expansion, modernization, and acquisitions. It expects 13 new facilities to boost earnings growth in the segment. Its focus on performance products is expected to contribute 50% to earnings growth.
Major projects in downstream and chemicals
ExxonMobil has a series of projects in its downstream and chemicals segments that are expected to provide growth. Let's look at a few of those important projects.
A significant downstream project is ExxonMobil's US Gulf Coast project. XOM plans to invest $20 billion at 11 sites in the US Gulf Coast region through 2022. They include projects in refining, chemicals, lubricants, and LNG (liquefied natural gas), which are being undertaken to expand production capacity and export capability. XOM intends to use the ample domestic supply of crude oil and natural gas and its low-cost manufacturing abilities to penetrate international markets. In the US Gulf Coast, the company expects to see its integrated model work at its best, optimizing value from the entire supply chain from the production of oil to refining and chemical processing to supplying products to the market.
Another project in the downstream segment is the hydrocracker project at the Rotterdam refinery, which is expected to yield higher value-refined products. The Singapore chemical segment project is aimed at producing low-cost, high-value feedstocks and chemicals.
Article continues below advertisement
The acquisition of Jurong Aromatics in 3Q17 has been a big boost for ExxonMobil's downstream portfolio. Jurong owned one of the largest aromatics plants in the world. The facility was close to ExxonMobil's existing facility in Singapore. ExxonMobil had an integrated refining-cum-petrochemicals complex in Singapore. The acquisition of Jurong is anticipated to provide significant operational synergies to ExxonMobil.
In a nutshell
Overall, XOM's restructured downstream capacities with a focus on higher margins could bring growth to the segment. Its growing chemical capacities could result in higher earnings for the segment. The consistent focus on optimizing its value chain to derive the benefit of every molecule processed could further enhance its earnings potential.
In the next part, we'll analyze ExxonMobil's debt position.