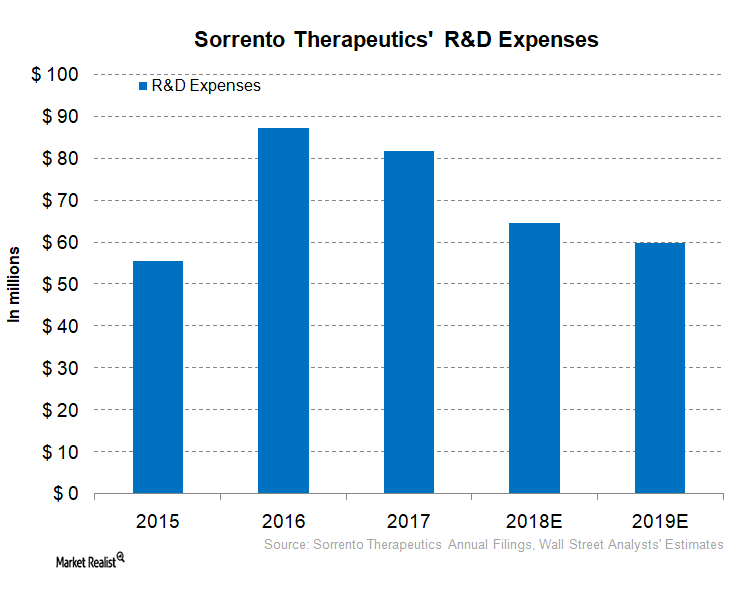 Exploring Sorrento Therapeutics' Research Pipeline
By Kenneth Smith

Mar. 29 2018, Updated 3:17 p.m. ET
Research pipeline
Sorrento Therapeutics (SRNE) aims to use its antibodies along with its proprietary targeted delivery modalities to generate therapies for cancer. These modalities include antibody drug conjugates, bispecific approaches, and T-cell receptor-like antibodies. 
Additionally, Sorrento Therapeutics has acquired late-stage biosimilar antibodies based on Erbitux, Remicade, Xolair, and Simulect.
Sorrento Therapeutics' cellular therapy programs are focused on chimeric antigen receptor T-cell (or CAR-T) therapy for the treatment of solid and liquid tumors. Sorrento Therapeutics' CD38 CAR-T is under evaluation for the treatment of multiple myeloma, amyloidosis, and graft versus host disease. Its CD123 CAR-T is being assessed for the treatment of acute myeloid leukemia. Sorrento Therapeutics expects to submit an Investigational New Drug Application (or IND) for at least one of these two programs with the FDA in 2018.
Article continues below advertisement
Pain-focused franchise
Sorrento Therapeutics has invested in developing a pain-focused franchise. This includes resiniferatoxin, which is used as an injectable pain treatment. It has received orphan drug status for treating intractable pain at end-stage cancer.
 ZTildo
Scilex Pharmaceuticals' ZTildo is a lidocaine delivery system that has received FDA approval for the treatment of postherpetic neuralgia. According to Sorrento Therapeutics, the prescription lidocaine patch market in the United States for all indications totaled ~700 million in 2015.
Article continues below advertisement
G-MAB platform
Sorrento Therapeutics' G-MAB library is one of the largest and most diverse fully human antibody libraries. It contains approximately one quadrillion unique antibodies. The library is designed to provide a complete spectrum of human immunoglobulin gene recombination.
Research and development expenses
Sorrento Therapeutics incurred research and development expenses of $81.6 million in fiscal 2017 compared to $87.1 million in fiscal 2016. In fiscal 2018, the company is expected to incur research and development expenses of $64.4 million.
In the next article, we'll take a look at the financial performance of Sorrento Therapeutics.