Could Norfolk Southern Increase Its Dividend in 2018?
On a long-term basis, NSC aims for a dividend payout ratio of 33.3%.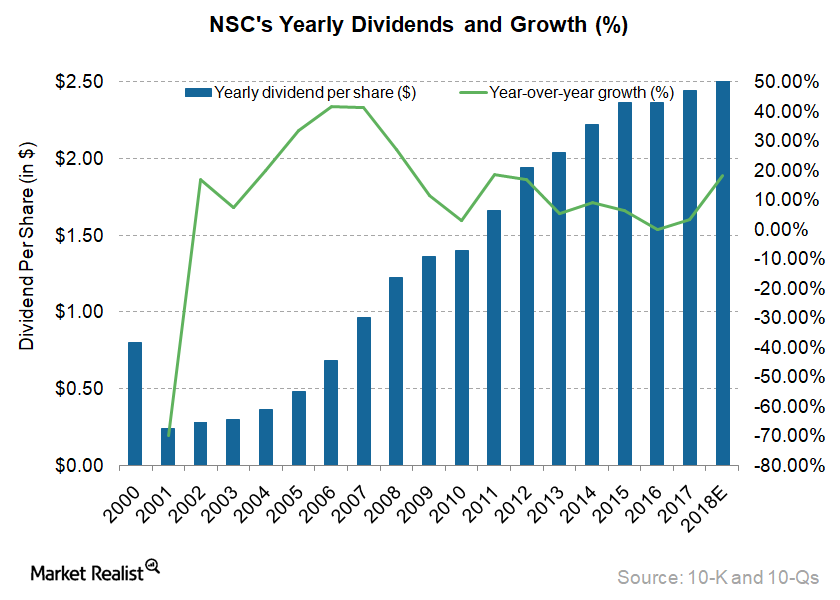 Norfolk Southern's cash distributions
Norfolk Southern (NSC) operates ~19,500 route miles in 22 states and the District of Columbia. The railroad serves every key container port in the Eastern US. On January 23, 2018, the company announced an 18.0% dividend increase in its quarterly cash dividend to common shareholders. After the rise, its quarterly cash dividend on ordinary shares increased from $0.61 per share to $0.72 per share.
On a long-term basis, NSC aims for a dividend payout ratio of 33.3%. In the last year, the railroad's cash distribution to shareholders totaled $1.7 billion, which included dividends of $703.0 million and $1.0 billion in stock buybacks.
Beginning in fiscal 2017, Norfolk Southern raised its per-share quarterly cash dividend from $0.59 to $0.61. Since its inception in 1982, the railroad has paid dividends on its ordinary stock for 142 consecutive quarters.
Article continues below advertisement
Article continues below advertisement
The chart above reveals that NSC's dividends have either grown or remained stable. The double-digit dividend growth of 18.0% in 2018 comes after almost six years when the company increased dividends by ~17.0% in 2012. After 2011, NSC's dividend growth fell as low as 3.0% from its highs of more than 40.0% recorded in 2007.
NSC's free cash flows
In 2017, Norfolk Southern had $1.5 billion in the form of free cash flows. This denotes a robust 33.0% jump from $1.1 billion in free cash flows in its previous year.
For 2018, Thomson Reuters–surveyed analysts expect the company to incur capex of $1.8 billion, reflecting a modest rise of 5.2%. The company's free cash flows are expected to grow 22.0% in the year over 2017. This leaves enough room for either a higher dividend per share or increased stock buyback activity for the company in upcoming quarters.
ETF investment
Investors looking for regular income may consider the Vanguard Industrials ETF (VIS). Major industrial giants paying regular dividends such as Boeing (BA) (6.33%), 3M Company (MMM) (4.41%), and General Electric (GE) (3.84%) are included in VIS's holdings.
Next, we'll discuss CSX's (CSX) dividends in 2018.