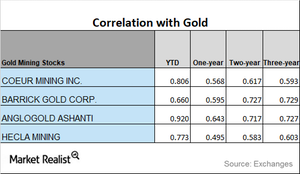 Comparing Mining Stocks' Correlation with Gold
Correlation analysis
Mining stocks tend to move with gold prices. In this part, we'll analyze the correlation between gold and four mining stocks: Coeur Mining (CDE), Barrick Gold (ABX), AngloGold Ashanti (AU), and Hecla Mining (HL). This year, AngloGold has shown the highest correlation with gold, while Barrick Gold has shown the lowest correlation.
Mining funds also have a high correlation with gold. The iShares MSCI Global Gold Mining ETF (RING) and the Sprott Gold Miners ETF (SGDM) rose 3% and 3.2%, respectively, on March 23, 2018. However, these funds have fallen year-to-date.
Article continues below advertisement
Article continues below advertisement
Trend readings
During the past three years, ABX's, AU's, and HL's correlation with gold has dropped, while CDE's correlation has been mixed.
HL's three-year correlation with gold is 0.60, whereas its one-year correlation is 0.50. A correlation of 0.50 indicates that ~50.0% of the time, Hl moved has moved in the same direction as gold.
Miners' correlation trends with gold are a vital factor to consider for investors, as gold is the most prominent of the four precious metals. A change in gold impacts the other three precious metals as well as mining stocks. As seen on Friday, gold and silver influenced most mining stocks' movement, with the metals' rise boosting mining stocks.