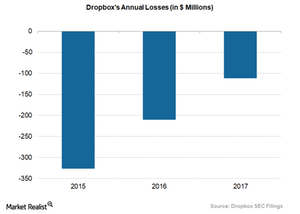 Can Dropbox Turn Its Losses into Profits?
Dropbox goes public at $21 per share
Dropbox (DBX) is the first loss-making company to go public, and it had an overwhelming response from investors when it did on March 23, 2018. The company raised more than $750 million in funds by selling 36 million shares for $21 per share, which was higher than the expected range of $18–$20.
Dropbox was the first big technology company to have an IPO (initial public offering) since Snap (SNAP had its debut in March 2017.
Article continues below advertisement
Article continues below advertisement
Dropbox making losses
It's worth noting that Dropbox has reported losses in the past three years, although the losses have become narrower each year. It reported a loss of $325.9 million in 2015, $210.2 million in 2016, and $111.7 million in 2017 due to a steep rise in expenses. The company has been making massive investments and spending on research and development, which has increased its costs. With a growing user base and revenue opportunities, Dropbox continues to expect expenses to rise in the near term.
However, Dropbox posted positive free cash flow of $137.4 million and $305 million in 2016 and 2017, respectively. That compares to negative free cash flow of $63.9 million in 2015.
Dropbox has tried to reduce its operating expenses by shifting its data storage from Amazon's (AMZN) cloud services to its own custom-built system. The company now has more than 90% of user data stored on its own cloud infrastructure. It uses Amazon Web Services for the remainder. In 2016, the company also made an effort to discard inactive non-paying users, which not only created free space but resulted in cost reductions.
Long-term profit outlook
According to a CNBC report, Dropbox expects its long-term gross margins to increase in the range of 76%–78%, up from 68% in 2017. Dropbox also plans to expand its operating margins to 18%–20%, up from only 5% in 2017. The improvement in gross and operating margins could turn around Dropbox's losses over the long term.