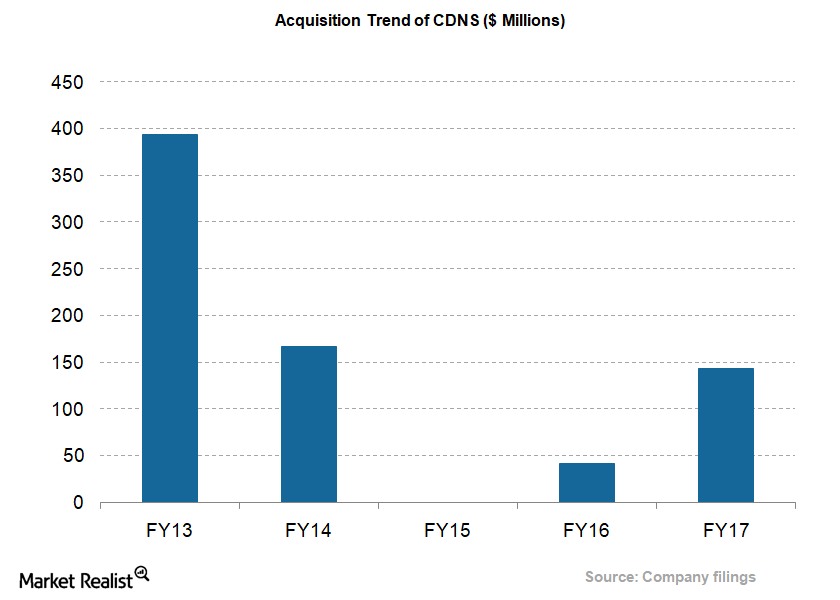 Cadence's Acquisition Spree to Bolster Product Growth
<p>Cadence Design Systems (CDNS) continues to enhance its product portfolio by way of new acquisitions. In the last five years, the company has completed eight acquisitions.</p>
Acquisition details
Cadence Design Systems (CDNS) continues to enhance its product portfolio by way of new acquisitions. In the last five years, the company has completed eight acquisitions.
In the graph above, we can see the company's acquisition spending trend over the last five years. During the period, its spending has declined at a CAGR (compound annual growth rate) of 22.3%. Moreover, during the same period, the company spent ~$745 million at an average of $149 million per year on acquisitions.
In 4Q17, Cadence made two important acquisitions for a combined sum of ~$143 million. It bought SFM Technology, an innovative company that deals in advanced ECAD/MCAD library development, which boosted its System Design Enablement strategy into mechatronics.
Article continues below advertisement
Article continues below advertisement
It also bought nusemi, a company that specializes in ultra-high-speed connectivity solutions. The company believes that the acquisition will help it to boost its product portfolio with next-generation high-speed SerDes (Serializer/Deserializer) for modern cloud and data center applications. Moreover, Cadence's acquisition of Tensilica in 2013 continues to strengthen its leadership in the smart speaker market.
Strong free cash flow drives acquisition goals
Cadence has continued to generate strong free cash flow over the years. The company exited 2017 with $413 million in free cash flow compared to $391 million in 2016. It's maintained an average yearly free cash flow of $347 million in the last four years. Such a healthy free cash flow continues to make room for more acquisitions.
Mergers and acquisitions in the IT (information technology) sector are quite common. In October 2017, International Business Machines (IBM) bought Vivant Digital. Another software company, ServiceNow (NOW), made six small acquisitions between 2016 and 2017.