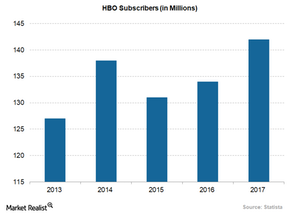 Behind Time Warner's Growing HBO Subscribers
HBO's subscription revenue growth
In 4Q17, Time Warner's (TWX) HBO (Home Box Office) segment reported quarterly revenue growth of 13% at $1.7 billion. The increase in the HBO segment, which contributes ~19.5% Time Warner's total revenues, was driven by 16% YoY (year-over-year) growth in its subscription business.
However, the company posted a decline of 7% in content and other revenues in 4Q17 due to lower international licensing revenues.
Article continues below advertisement
Article continues below advertisement
Increase in HBO subscribers
Subscription revenues in 4Q17 grew $206 million, primarily attributable to growth in domestic subscription revenues. The rise in HBO subscribers, higher contractual rates, and international growth have all been the key catalysts for subscription revenue growth.
At the end of December 2017, HBO subscribers had reached 142 million, of which 54 million were domestic subscribers. HBO's OTT (over-the-top) video-on-demand service, HBO Now, added more than 5 million subscribers in 2017, up from 2 million in 2016.
The company works with some online streaming offerings providers, including its own HBO Now, Amazon.com's (AMZN) Amazon Channels, AT&T's (T) DIRECTV Now, and Sony's (SNE) Vue.
Game of Thrones
Game of Thrones remained the most-watched episode on HBO, and the rising popularity of streaming platforms like HBO Now helped boost subscriber growth for HBO in 4Q17. HBO's subscription revenues touched $5.5 billion for the first time in 2017, thanks to the continued success of hit shows such as Games of Thrones worldwide.
Game of Thrones Season 7 witnessed a 33-million average viewership, which was 28% higher YoY. In November 2017, HBO launched OTT services in 11 Central European countries.
Similar to Netflix (NFLX), HBO is investing heavily in original content. In 2017, HBO received 29 Primetime Emmy Awards—the most seen by any network in 16 years. To be sure, investment in content is helping the company maintain its popularity among TV audiences.