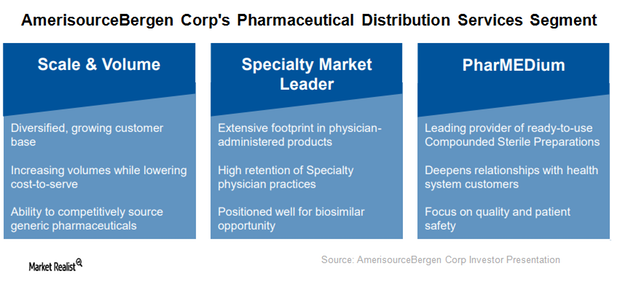 AmerisourceBergen's Business Segments
Business segments
AmerisourceBergen's (ABC) operations are organized based on the products and services it provides to customers. The company's operations include the pharmaceutical distribution services segment and the other operating segment, which consists of global commercialization services, animal health, consulting services, World Courier, and MWI.
Article continues below advertisement
Article continues below advertisement
Pharmaceutical distribution services segment
The pharmaceutical distribution segment distributes brand-name, specialty, generic, and over-the-counter healthcare products. The segment also distributes home healthcare supplies and equipment, sterile preparations, and related services to healthcare providers, acute care hospitals, health systems, chain retail pharmacies, mail order pharmacies, medical clinics, and long-term care facilities.
AmerisourceBergen's pharmaceutical distribution services segment provides data analytics, outcomes research, and additional services for biotechnology and pharmaceutical manufacturers. The segment also provides pharmacy management, staffing, and additional consulting services and supply management software to a number of retail and institutional healthcare providers.
Other segment
Through its other segment, AmerisourceBergen provides integrated manufacturer services. The services vary from clinical trial support to product post-approval and commercialization support. The company's World Courier is a leading global specialty transportation and logistics provider for the biopharmaceutical industry with operations in more than 50 countries.
The other segment also includes MWI—a leading animal health distribution company in the US and the United Kingdom. MWI sells pharmaceuticals, vaccines, parasiticides, diagnostics, micro feed ingredients, and other products for the companion animal and production animal markets.
Article continues below advertisement
Segment revenue
In 1Q18, the pharmaceutical distribution services segment generated revenues of $38.9 billion—compared to $36.7 billion in 1Q17. The revenues from the other segment were $1.5 billion in 1Q18—compared to $1.3 billion in 1Q17.
Segment income
The pharmaceutical distribution services segment's operating income was $388.1 million in 1Q18—compared to $379 million in 1Q17.
The other segment's operating income fell from $107.1 million in 1Q17 to $100.2 million in 1Q18.
Next, we'll discuss AmerisourceBergen's recent acquisitions and the expected benefits.