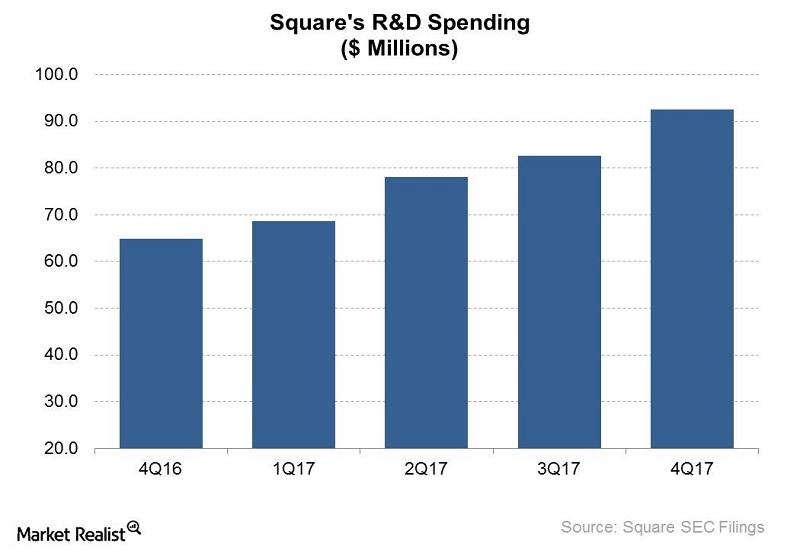 A Look at Square's Spending on Product Development
R&D spending increased 43%
Square (SQ) spends a substantial portion of its budget on product development. Creating new products is enabling Square to drive growth by being able to sell more to its existing customers. Square is also investing in product development as a way to expand its ecosystem, which now includes a peer-to-peer payment service, and improve customer retention.
Article continues below advertisement
Article continues below advertisement
Personnel hiring driving up R&D costs
In recent quarters, Square's R&D costs have been driven by an increase in personnel, particularly hiring in engineering, product, and design teams. Jack Dorsey, who is the CEO of both Square and Twitter (TWTR), has in the past talked about there being potential synergies between the companies. Square is involved in payments, while Twitter engages in the social media and online advertising business. Perhaps product innovations could help unlock those synergies.
R&D costs rose 43%
In 4Q17, Square spent $92.6 million toward product development or R&D (research and development), representing an increase of 43% YoY (year-over-year). At PayPal (PYPL), R&D spending increased 24.2% YoY in 4Q17, while Amazon's (AMZN) R&D costs rose 40% YoY in the same period. Yelp's (YELP) R&D budget increased 30.1% YoY in 4Q17. Google parent Alphabet (GOOGL) spent 19.4% more on R&D in 4Q17 than in the year-ago quarter.
R&D represented 36.8% of operating expenses
In 4Q17, R&D spending accounted for 36.8% of Square's operating expenses excluding the cost of revenue. R&D spending was 35.5% of operating expenses in 3Q17 and 35.9% of operating expenses in 4Q16. Square's operating expenses increased 40% YoY overall in 4Q17.