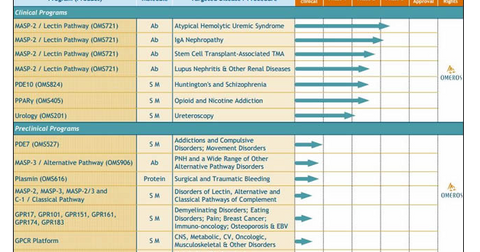 A Look at Omeros's Promising Research Pipeline
By Kenneth Smith

Updated
Research pipeline
Omeros's (OMER) research pipeline includes OMS721, which is undergoing Phase 3 trials for use in immunoglobulin-A nephropathy, hematopoietic stem cell transplant–associated thrombotic microangiopathy, and atypical hemolytic uremic syndrome, as well as Phase 2 trials for lupus nephritis, Huntington's disease, schizophrenia, and opioid addiction.
Omeros's preclinical development programs include OMS527 for addiction and compulsive disorders, OMS906 for paroxysmal nocturnal hemoglobinuria, and an antibody platform for metabolic, oncologic, musculoskeletal, and other disorders.
Article continues below advertisement
MASP-2 program
MASP-2 (mannose-binding protein-associated serine protease 2) is a pro-inflammatory protein target involved in complement system activation. Omeros is developing MASP-2 antibodies and small molecules. Its lead human monoclonal antibody, OMS721, targets MASP-2 for diseases where the lectin pathway causes significant tissue injury. It has been designated as a breakthrough therapy for nephropathy by the FDA. Omeros is conducting a Phase 2 clinical trial in patients with complement-associated renal diseases.
MASP-3 program
Omeros's primary focus in the MASP-3 program is developing MASP-3 inhibitors for treating disorders related to complement systems' alternative pathway. The company believes MASP-3 inhibitors can treat patients with multiple sclerosis, arthritis, traumatic brain injury, asthma, Guillain-Barré syndrome, and Behcet's syndrome. Omeros has ramped up MASP3 inhibitor antibody manufacturing in preparation for clinical trials and is targeting paroxysmal nocturnal hemoglobinuria as the first clinical indication for OMS906.
Research and development expenses
Omeros incurred R&D (research and development) expenses of $55.6 million in fiscal 2017, compared with $50.7 million in fiscal 2016. In fiscal 2018 and fiscal 2019, the company expects R&D expenses of $57.2 million and $54.8 million, respectively. In the next part of this series, we'll assess Omeros's financial performance.