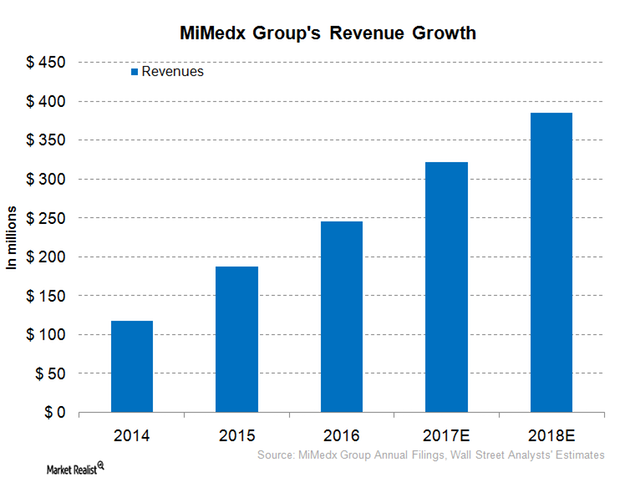 Understanding MiMedx Group's Zealous Focus on Sales
MiMedx's product lines
MiMedx group's (MDXG) allograft product line includes its dehydrated human amnion-chorion membrane (or dHACM) family with the Amniofix and EpiFix brands, the amniotic fluid family with the OrthoFlo brand, the umblical family with EpiCord and AmnioCord brands, and the CollaFix and AmnioFill brands.
AmnioFix and EpiFix are MiMedx's tissue technologies processed from human amniotic membranes. EpiCord and AmnioCord are derived from umbilical cords.
Article continues below advertisement
MiMedx's focus on sales
MiMedx focuses on marketing efforts to increase revenues. The company has at its disposal a sales force of 320 professionals, who target hospitals, wound care clinics, physician offices, and federal healthcare facilities like the Department of Veteran Affairs and the Department of Defence hospitals.
To this end, MiMedx Group entered into a non-exclusive distribution agreement with Medtronic in September 2013. Under the agreement, the former provides its Purion processed grafts to the latter to be marketed under the RDX2 brand for spinal applications in the US.
In September 2014, MiMedx entered into a similar non-exclusive distribution agreement with Zimmer Biomet for the distribution of AmnioFix under the brand name AmnioRepair for reconstructive, sports medicine, trauma, extremities and spine applications in the US.
MiMedx's revenues versus those of peers
For fiscal 2017, MiMedx group was expected to report revenues of $321.5 million, while in an announcement on January 7, 2018, the company reported revenues of $324.5 million.
By comparison, peers Atricure (ATRC), Globus Medical (GMED), and Inogen (INGN) are expected to report revenues of $174.0 million, $625.3 million, and $247.4 million, respectively, for fiscal 2017.
Notably, MiMedx Group makes up about 0.39% of the iShares S&P Small-Cap 600 Growth ETF's (IJT) total portfolio holdings.
In the next part of this series, we'll a closer look at the significant opportunity that MiMedx Group has in the US wound care market.