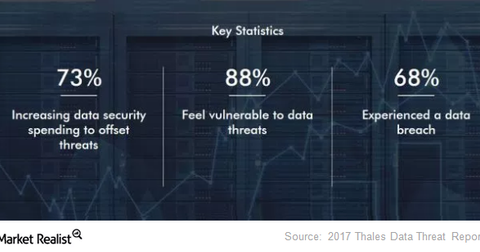 Who's Watching Palo Alto Networks in 2018?
By Anne Shields

Updated
FireEye's revenue growth compared with that of peers
So far in this series, we've already discussed the factors that make FireEye (FEYE) a potential takeover target for Microsoft (MSFT) in 2018. In fiscal 3Q17, FireEye's revenues rose ~2.0% to $189.6 million, and given FEYE's recent earnings, its management appears to be eager to improve its bottom line—even at the expense of its top line.
By comparison, in fiscal 1Q18 (ended October 31, 2017), Palo Alto Networks' (PANW) revenues rose 27.0% to $489.0 million, and the company is scheduled to report its fiscal 2Q18 earnings on February 27.
In its fiscal 2Q18 (ended September 29, 2017), Symantec's (SYMC) revenues grew 25.0% to ~$1.2 billion. It will be reporting its fiscal 3Q18 earnings on January 31, 2018.
In its fiscal 3Q17 (ended October 28, 2017), Cisco Systems' (CSCO) revenues rose 8.0% to $12.2 billion. February 14 is the scheduled date for Cisco's fiscal 4Q17 earnings.
In its 3Q17 results, Fortinet (FTNT) reported $374.4 million in revenues—an increase of 18.2% on a YoY (year-over-year) basis. Fortinet will be reporting its fiscal 4Q17 results on February 5, 2018.
Article continues below advertisement
Palo Alto's edge compared with peers
Thus, cybersecurity companies, which can grow their top lines as well as the bottom lines, are poised for growth in 2018 and beyond.
Palo Alto Networks provides next-generation firewalls for servers, the cloud, mobile devices, and other physical and virtual workstations. Barring Cisco, among peers, Palo Alto is reporting fastest growth in its top line. Its firewall not only controls data inflows within a company's corporate infrastructure but also enables its client's security team to have a control over various application connections.
Palo Alto has 45,000 customers in more than 150 countries. As data breaches continue to surge, Palo Alto is expected to grow.
Factors weighing on cybersecurity companies' margins
The chart above shows the 2017 Thales Data Threat Report results, which show the increase in overall security spending in 2017. Notably, 73.0% of organizations increased their information technology security spending in 2017, compared with 58.0% in 2016.
The increase in cybersecurity spending implies that the majority of cybersecurity companies with competitive security offerings will likely post robust revenue growth. However, high marketing and R&D (research and development) costs and tough price competition will all be weighing on their margins, and many of these companies are still unprofitable. FireEye is one such player.